June 28, 2019 – Genmed announces today that it has been identified as one of London Stock Exchange Group's 1000 Companies to Inspire Britain for the second year running. Published annually, the report celebrates the UK's fastest-growing and most dynamic small and medium sized businesses (SMEs), with companies representing over 40 sectors and spanning every region of the country.
To be selected for the list, businesses had to demonstrate not only positive revenue growth over the last three years but also outperform their sector peers. The result is a unique and varied list of the UK's most innovative companies - SMEs which are the engine and future of the British economy. The report showcases the depth and breadth of high growth businesses in the UK.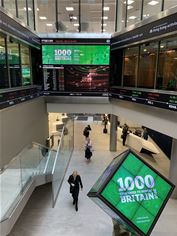 Launch event of 1000 Companies to Inspire Britain 2019 at the London Stock Exchange
Rt Hon Nicky Morgan MP said, "SMEs in the UK have huge potential for growth, huge potential to provide high quality jobs and huge potential to provide a greater distribution of wealth and economic success across the length and breadth of our country. Speaking as chair of the treasury select committee, we have recently launched an inquiry into the regional economic in-balances that exist in the UK and so it fills me with great encouragement that 70% of the 1000 businesses featured in today's report are based outside London. The nation as a whole is going to be better served if every region in the UK has innovative, highly skilled workplaces around which vibrant and dynamic regional economies can be built."
With office locations in Wales and Weybridge, Genmed provides vendor neutral managed services in the NHS which help Trusts to reduce costs, rationalise pricing, improve efficiency, enhance clinical productivity, speed up purchasing, minimise administration and invoice processing. Genmed's managed services are HMRC compliant for VAT recovery which means Trusts can reclaim the 2o% VAT to re-invest in front line services and the treatment of patients.
Genmed has developed from initially delivering pathology contracts to now managing contracts which encompass surgery, pathology, flexible endoscopy, IT, radiology, electronic medical records management and renal. It is also able to provide building contracts including finance up to PFI level.
David Schwimmer, London Stock Exchange Group's CEO, said, "Congratulations to all the companies selected for inclusion in the sixth edition of London Stock Exchange Group's 1000 Companies to Inspire Britain report, which identifies the UK's most dynamic SMEs. SMEs drive growth, innovation and job creation and are the lifeblood of the British economy. We believe that supporting the growth of these businesses is critical to the UK and the creation of a society that works for everyone."
Genmed is not a managed equipment provider or a finance house. Providing a much wider and more central role, it is an integral partner working with Trusts to ascertain what clinical facilities or technology they need, their workload issues, finding and selecting suppliers, driving product costs down, putting together the finance, managing the contracts, paying subcontractors and taking all the risk upfront itself. Importantly, Genmed is not tied to any third-party suppliers and selects consumables and equipment based on close collaboration and input from NHS managers and clinicians.
Genmed now works for 40 NHS Trusts throughout the UK including:
London North West University Healthcare;
Norfolk & Norwich University Hospitals NHS Foundation Trust;
South West London Orthopaedic Elective Care;
Nottingham University Hospitals NHS Trust;
Countess of Chester NHS Foundation Trust;
Wirral University Teaching Hospital NHS Foundation Trust.
Robin Modak, Genmed's chief executive officer, says, "It's a real pleasure to be listed by the London Stock Exchange Group in its 1000 Companies to Inspire Britain report. When it was created in 1948, the NHS was inspirational, too. It solved major economic and social problems by providing free healthcare at the point of need irrespective of the size of one's bank balance. Through our work, we hope that the amazing work that the NHS does every day will be enhanced – crucial as the demand on the service is ever increasing with an ageing and growing population."
- ENDS -
About the 1000 Companies to Inspire Britain 2019 report
More details on the Companies to Inspire reports and methodology can be found online at www.1000companies.com.
A full searchable database of all of the companies along with a downloadable pdf of the publication can be found online at www.1000companies.com
About Genmed
Founded in 2007 and based in London and Wales, Genmed is a vendor neutral managed service provider specialising in the health sector. It works with 40 NHS Trusts and Health Boards around the country where, to date, it has 220 contracts supporting a variety of clinical disciplines such as pathology, surgery, endoscopy, imaging along with medical records, IT and facilities. Genmed's asset finance requirements are funded by large blue chip partners including Societe Generale and GE Capital. Currently Genmed's contract portfolio totals around £510 million.
Genmed is headquartered in Weybridge, Surrey. For further information, please visit www.genmed.eu
For further information, please contact
Tom Herbst
Tom Herbst PR
T:07768 145571
Email: tom@tomherbstpr.co.uk