Whether starting out on your first fitness journey or already a regular sweating it out at the gym, SOL REPUBLIC Relay Sport Wireless earphones provide the ideal Christmas gift for fitness fans to kick start their regime ahead of the New Year.
SOL REPUBLIC Relays Sport Wireless earphones – promo price of £59.99 available from HMV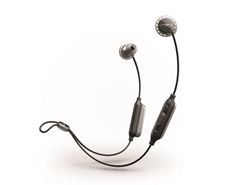 Relays Sport Wireless black
SOL REPUBLIC Relay Sport Wireless is designed to be comfortable to wear for hours while having a secure fit, up to 8 hours of play time, full range high fidelity sound, quick charge technology, microphone, music controls, sweat and water resistance, and a special outdoor sound mode.
SOL REPUBLIC Relays Sport Wireless features award-winning FreeFlex™ secure fit technology including an ultralight ear bud design that adapts to any ear size without the need for complicated parts or hooks which wrap around your sensitive ear. The result is an ear bud that stays in, won't fall out and is comfortable enough to use all day even when you're not working out.
Relays Sports Wireless features SOL REPUBLIC's signature deep bass and crisp sound that brings out all the emotion in your music. For outdoor exercise where the bass from your music is harder to hear over outdoor noise or the pounding sound of impact sports like running, Relays Sport Wireless features an outdoor sound mode that increases the right amount of bass so everything sounds just right again.
Available in Black, Lemon/Lime, and Mint/Grey
Up to 8 hours play time
Water and sweat resistance
Weightless earphones and secure fit buds that offer easy user adjustment
Superior acoustics without crowded electronics,
Quick-charge functionality and dual audio modes for optimal sound both indoors and out
About SOL REPUBLIC
SOL REPUBLIC is a global consumer electronics and music lifestyle brand dedicated to enhancing people's lives through style, sound, and technology. Comprised of music fanatics, SOL REPUBLIC designs its products from the ground up to look, sound, and feel unlike anything else in the market.
To request a sample or high res image, please contact zoe.taylor@kaizo.co.uk or call 0203 176 4700.