Hartley Wintney, UK, June 25th 2012 - Getmapping has integrated CycloMedia street level imagery and tools directly into its web based GIS applications for Local Authorities and Parish Councils. Bath and North East Somerset Council and Parish Councils in the region are the first to benefit from locationally accurate high resolution street level images which are seamlessly integrated into their existing mapping applications hosted by Getmapping.
When the CycloMedia module and associated imagery was released by Getmapping it immediately became available to all staff within the organisation thanks to the convenience of Software as a Service (SaaS). Functionality includes full NLPG (National Land and Property Gazetteer) property level search with multiple viewing angles displayed in up to three windows. It is also possible to take point and line measurements at sub-centimetre accuracy with full CSV data export. All the data is hosted remotely so there is no hardware overhead. The total solution helps to make staff more productive, reduces the number of site visits and car journeys and therefore cuts carbon emissions.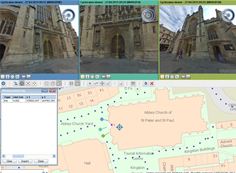 Bath Abbey
"CycloMedia imagery makes it possible to reduce staff car usage and Planning, Property and Highways departments are all reporting that they can reduce the number of site visits needed by using it. A 3% reduction will be sufficient to pay for the service," said Martin Laker, GIS Manager for Bath & North East Somerset Council. "Elsewhere our CRM team are reporting improved response times from being able to find and visualise the property at the outset of a customer call. Being able to validate what is being reported is now much easier. All the imagery is date stamped which is a great help in determining precisely when events occur," continued Laker.
"CycloMedia imagery represents an affordable yet superior alternative to out of date, unlicensed Street View imagery increasingly used by Local Authorities today," said Chris Mewse, GIS Business Development Manager at Getmapping. "By integrating CycloMedia imagery and tools directly into our web applications users can look at aerial photography, a full range of Ordnance Survey maps and then click straight into detailed geometrically accurate street level imagery to understand specific detail. They can even take accurate measurements achieving as much from sitting behind their desktop PC as they can from a site visit," continued Mewse. "This allows users to apply greater accuracy to asset inventories and improve the service the Local Authority provides to its citizens."
-end-
About Getmapping Plc
Getmapping Plc is a leading provider of aerial photography, digital mapping and web based GIS services. With offices in Hartley Wintney, Hampshire and Cape Town, South Africa, Getmapping was the first company to have up to date nationwide coverage of Britain and pioneered online delivery of aerial photography to business and the public at large. A reseller of professional mapping, oblique photography, height data, OS maps and third party aerial photography, Getmapping services a wide variety of markets including press and media, local authorities, property and construction, environmental consultants and the public. It also provides a number of value added mapping products and services tailored to specific client needs including data hosting, online data delivery and web-based GIS. A pioneer of many online products through its website, Getmapping is the only company currently re-flying the whole of the UK at enhanced 12.5cm resolution.
For further information please contact: Pete Bonham
T: +44(0) 1252 849423 E: peter.bonham@getmapping.com
About CycloMedia
CycloMedia is a world leader in 3D street level imagery with GIS accuracy, offering a complete end-to-end solution from imagery collection to automated data processing; cloud based hosting services and server software, to desktop software, client side developer tools and direct integration with leading GIS software. Our solution revolutionises asset management systems, reducing field trips, simplifies maintenance and enables automated inventory and control processes. It saves valuable resources while simplifying the decision making process and significantly improving the flexibility and quality of work order preparations. The complete process is tailored to the key drivers: large scale, systematic, consistent, predictable and efficient.
For further information please contact: Chris Mewse
T: +44(0) 1252 849437 E: cmewse@getmapping.com