Partnership will initially serve private equity firms and privately-owned companies, through Getronics' new Investment Services Group (ISG) practice
London, UK – 30th April 2019 – IT service provider Getronics has formed a technology partnership with HeleCloud, a leading AWS Consulting and Managed Services partner for UK and EMEA, to enable the design, delivery and management of leading-edge AWS-based solutions for Getronics customers through a 'centre of excellence'.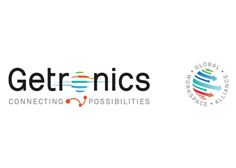 Getronics logo
While adoption of cloud services is growing rapidly among businesses across Europe, associated cloud skills are scarce. HeleCloud, one of the UK's fastest growing start-ups, provides businesses with the skills, knowledge and experience they need on-tap.
Initially the partnership will focus on Europe, with Getronics' sizeable presence in European enterprise and midmarket businesses affording access to customers through existing relationships, while targeting the following industry sectors: retail, travel and transportation, financial services, and healthcare.
Leveraging HeleCloud's AWS technical knowledge and experience, the two companies will create solutions designed specifically for each vertical sector, augmenting Getronics' existing portfolio of services by enabling their delivery on AWS. Solutions will include Technology Consulting, Managed Services, and Technology Training.
Getronics Group Vice Chairman, Mark Cook, commented: "There is significant customer interest in and momentum towards public cloud services on the AWS platform. In adding AWS capabilities we are adding choice for our customers, which is absolutely the right response to their interest and public cloud's current momentum."
Technology offerings will be delivered from the new Cloud Centre of Excellence, organised into seven areas of competence:
Cloud Roadmap & Migration
Cloud Security, Compliance & Governance
Business Continuity & Disaster Recovery
Big Data & Analytics
Managed Infrastructure
Managed Security & Compliance
Cloud Technical Design Authority
Steve Rosa, Getronics Vice President for Cloud, Infrastructure and Security, added: "Getronics provides genuinely end-to-end cloud-based solutions: we advise our customers on the best locations for their workloads, we run the transformation projects including application modernization, and we deliver the management of the full stack – all wrapped up in our security and compliance services."
Dob Todorov, CEO and Chief Cloud Officer of HeleCloud said: "We are excited to establish this partnership with Getronics - one of the most successful and fast growing global IT business of our time, with impressive capabilities across a range of platforms. Together, we are much more than the sum of the parts, and we'll innovate and build AWS capabilities to the benefit of Getronics customers."
While adding AWS capabilities, Getronics remains a Microsoft Azure partner, serving customers committed to Microsoft technologies or intent on establishing multi-vendor presence. Getronics also delivers private and hybrid cloud solutions from its own hosted private cloud platforms in 19 data centres across Europe coupled with investments running across North America.
[ends]
About Getronics
Getronics is a global information and communications technology service provider with an extensive history that extends over 130 years.
Our vision is to become the preferred partner in business transformation using technology and exceptional people, with a unique focus on happy clients by enabling happy employees. With nearly 9,000 employees in 23 countries across Europe, Asia Pacific, North and Latin America, Getronics' Transformation portfolio brings a strong capability and expertise around: Smart Work; Smart Applications; Multi-Cloud; Unified-communications; Smart Security, and the Investment Services Group to provide a proactive, end-to-end portfolio to enable the digital user – business or consumer, in both public and private sector.
About HeleCloud
HeleCloud™ is an Amazon Web Services (AWS) technology consultancy with offices in Maidenhead, UK, and Sofia, Bulgaria that helps enterprises of all sizes establish Cloud vision and execute Cloud strategies through their industry leading Cloud Roadmap methodology. HeleCloud™ also provides Cloud managed services to further amplify Cloud benefits and enable enterprises to focus on their core business and customers.
HeleCloud's team of professionally trained consultants and engineers are well grounded in all aspects of cloud solutions, with specialist expertise in the competencies of Security and Compliance; Big Data, Analytics and IoT; Microsoft Enterprise Applications on AWS and SAP Applications on AWS. For more information visit: https://www.helecloud.com/.
# # #
Press contacts:
Rose Ross
Omarketing for Getronics UK & Ireland
T: +44 (0)20 8255 5225
Email: rose@omarketing.com
Gilberto Caparica Neto
Getronics
Tel: +34 67 629 4104
Email: gilberto.caparica@getronics.com