Oxfordshire business park premises near capacity since installation of Gigaclear network
Oxfordshire, 14 March 2014 - Gigaclear, provider of ultrafast pure fibre broadband, has designed, built and installed its fibre-to-the-premises network at the Kingston Business Park, Kingston Bagpuize, Oxfordshire. The new infrastructure improves upon the existing copper network which was unable to provide the speed and reliability needed for business use.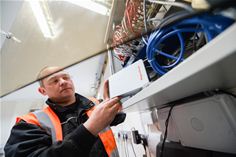 Gigaclear installation
Commenting on the installation, Ed Vaizey, Minister for Culture, Communications & Creative Industries and Conservative MP for Wantage & Didcot says, "I am delighted to welcome the installation of superfast broadband at Kingston Business Park. Having seen Gigaclear's systems elsewhere, I know just how fast and effective they are. A good broadband connection has become an essential facility for businesses in the UK, and businesses at Kingston Business Park could not have better connections than this."
Since installing Gigaclear, properties on Kingston Business Park are "more marketable and appealing to tenants who are attracted by the high broadband speeds", according to Richard Lee, senior surveyor, Dexter Brown Ltd, managing agents for the park.
This view is backed-up by Philip Stacey of Clarendon Business Centres. Clarendon licenses 16 offices within the Airfield House building at the park. Phillip Stacey, centre manager says, "We were at risk of losing business because of the slow and unreliable broadband speeds . With many clients investing in servers and cloud based solutions onsite, it became essential for us to seek the best Internet connectivity solution available, to both retain and build our client base."
Clarendon considered a number of options to improve network speeds including additional ADSL lines; fixed wireless and satellite internet; and a leased line. These options either couldn't guarantee the speeds needed or were not financial viable.
"Gigaclear was an affordable, future-proofed alternative", continues Stacey. "Since installing the network, we've gone from having internet speeds as low as 0.5Mbps to a symmetric 100Mbps with the potential to increase this to 1Gbps. This ability to offer the fastest connectivity in the country in a rural location has become one of our business' unique selling points. Since going live with Gigaclear, not a single company has left Airfield House and we are virtually at capacity with licensees."
ES Technology, a manufacturer of bespoke laser equipment, is another company based at the park benefiting from the network. The firm's operations director, Tim Millard comments, "Thanks to Gigaclear, we're operating much more efficiently as a business. For example, we're now able to download CAD drawings from our suppliers instantaneously. Previously complex drawings could have taken up to 30 minutes to download which left our designers killing time while they waited to access the files. Our parent company, based in Northamptonshire, is so impressed with how quickly we can transfer information, it is pushing for fibre optic at their own premises."
Operation improvement specialist Newton Europe is also based at the park. Greig Harper, IT Manager of comments, "With 150 employees across the UK, communication is very important to us. We need bandwidth for e-learning and video conferencing as well as working with ever increasing datasets. Gigaclear was one of the main reasons for us moving here. Taking a leased line in a rural location would have been prohibitively expensive but with Gigaclear we have what we need - now and for the foreseeable future. We've moved to a cloud-based infrastructure and can provide remote IT support to colleagues working on site with clients. It has freed the central IT team to focus on more strategic matters."
"The debate on broadband services in rural communities is about more than just technology," says Matthew Hare, chief executive, Gigaclear. "It is about provisioning for a sustainable economic future for those who wish to live and work in counties like Oxfordshire. Broadband is an essential utility for businesses today - having poor broadband in a business park is akin to building the park without electricity. By implementing ultrafast broadband, Kingston Business Park businesses are benefiting from world class technology within their preferred geographic location."
Kingston Business Park went live with Gigaclear in September 2013.
ENDS
About Gigaclear
Gigaclear is a privately funded communications operator dedicated to building and operating Ultrafast fibre to the premises broadband networks in rural communities. With pure fibre connectivity to every property in a community, delivering open, ultrafast broadband access, customers have complete control over the choice of services they wish to use. The company was founded in December 2010 by its chief executive, Matthew Hare. For further information about qualifying communities see www.gigaclear.com/can-i-get-it
PR Contacts:
Olivia Rees
Gigaclear Marketing Manager
+44 (0)1865 591128
Olivia.rees@gigaclear.com
Jillian Alexander
Alexander PR for Gigaclear
+44 (0) 7949 602484
Jillian@alexander-pr.co.uk