Washington D.C., USA – January 16, 2018: Axios Systems, a pioneer of "Fit for Purpose" IT Service Management (ITSM) and IT Operations Management (ITOM) cloud solutions, is delighted to award its Customer of the Year award to US-based financial institution, Glacier Bancorp.
Based in Kalispell, Montana, Glacier Bancorp provide commercial banking services in 91 communities and 146 banking offices across Montana, Idaho, Colorado, Utah, Washington, Wyoming and Arizona. They provide a wide variety of services including mortgage origination services, retail brokerage services and commercial, consumer and real estate loans.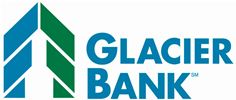 Glacier Bank logo
A customer since 2012, Glacier Bancorp received the Customer of the Year award due to their commitment to Axios Systems as a partner, as well as their strategic use of the comprehensive suite of services provided by assyst, the leading software solution from Axios.
In collaboration with the Axios team, Glacier Bancorp has made a number of worthwhile improvements to their configuration of assyst in 2017. From simpler configurations, like enabling assyst's recently-released, ITIL-aligned priority calculator, to loftier ambitions, including tuning the framework of their assyst CMDB towards enabling service-oriented event reporting, Glacier IT is vigilant in their pursuit of the ways that assyst can help add value and better align with the business.
Chris Torma, Change Manager at Glacier Bancorp said: "Glacier Bancorp IT is committed to bringing further value to our business through ongoing efforts to make processes more effective. As assyst customers, partnership with Axios plays a vital role in the achievement of our IT Service Management goals."
Markos Symeonides, Regional CEO at Axios Systems said: "Glacier Bancorp has redefined what a true business partnership is. Its dedication to driving efficiencies within its own organization and loyalty to the Axios brand has been second-to-none. I'm delighted to be able to award them the Customer of the Year accolade."
-ENDS-
For further information, please contact:
Axios Systems
Press/PR
Stephen Brunsdon
Email: Stephen.Brunsdon@axiossystems.com
Phone: +44(131) 220 4748
About Glacier Bancorp
Glacier Bancorp, Inc. is a bank holding company with assets of $9.7 billion, headquartered in Kalispell, Montana, with operating divisions: Glacier Bank of Kalispell, First Security Bank of Missoula, Valley Bank of Helena, Big Sky Western Bank of Bozeman, Western Security Bank of Billings, First Bank of Montana, Lewistown; Mountain West Bank in Idaho, Utah and Washington; First Bank in Wyoming and Utah; Citizens Community Bank of Idaho, Bank of the San Juans in Colorado, First State Bank in Wyoming, North Cascades Bank in Washington and The Foothills Bank in Arizona.
Over the years, Glacier Bancorp has received numerous awards for stability and soundness and has repeatedly ranked among the top 10% in the nation for financial strength.
About Axios Systems
Axios Systems is committed to delivering innovative IT Service Management (ITSM) and IT Operations Management (ITOM) solutions that help customers not only improve their infrastructure operations, but also enhance service delivery across business functions, including HR, Facilities Management and Finance.
Axios' comprehensive, fit-for-purpose solution, assyst, brings to market the latest in real-time dashboard technology, social IT management, mobility, reporting, resourcing and forecasting. assyst offers a series of solutions and templates that enable an immediate return in customer satisfaction, cost reduction and tangible business benefits to each of its clients. assyst is accredited for all 16 PinkVERIFY™ ITIL® processes and Axios was the first vendor to achieve this within a single solution.
For more information, please visit our website at http://www.axiossystems.com