MaidSafe's SAFE Network used to Study and Create Next Generation Internet Applications
Troon, Scotland, September 29th 2016 - Since its inception in 1451, Glasgow University has built a worldwide reputation as a centre for innovations which have had a profound effect on the world. Its famous alumni have included John Logie Baird, Lord Kelvin and Adam Smith, whose global impact has left a lasting impression on the world we live in today. Continuing the trend, Glasgow University Computing Science Students will be exposed to the latest in decentralised networking technology as MaidSafe's SAFE (Secure Access For Everyone) Network puts them at the forefront of research and development into next generation Internet applications.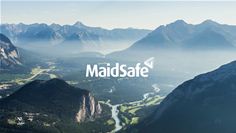 Students within the computer science department, under the guidance of Dr Inah Omoronyia, Lecturer in Software Engineering and Information Security, will work with the MaidSafe team, led by Scottish Engineer David Irvine. They will provide students guidance in building apps on top of the company's platform, a secure and decentralised data and communications network that replaces the world's data centres and servers with the spare computing capacity of the networks users. This comes at a time of great debate about the future of the Internet with leading academics, including the founder of the worldwide web Sir Tim Berners-Lee, seeking to improve the security and privacy offered to users.
The SAFE Network provides a zero cost infrastructure for students and the current APIs enable the creation of storage and email applications. This functionality is laid out to developers in tutorials created by the company, and this will be expanded over the next few months as MaidSafe release tutorials every 2 weeks, providing increasingly more complex functionality to application developers.
MaidSafe CEO, David Irvine, commented on the partnership; "We are delighted to be working with a university with such a rich heritage and we very much look forward to using the applications created by their students. Where better to push the envelope of evolutionary thinking than the country that Voltaire opined "We look to Scotland for all our ideas of civilisation". Glasgow University has an excellent opportunity to be at the forefront of research and development in the field of Internet technologies, alongside the likes of MIT, which will further enhance its reputation - and that of Scotland - as a source of cutting edge innovation."
Glasgow University has one of the leading computing science departments in the UK and is ranked amongst the top 100 in the world. Lecturer in Software Engineering and Information Security, Dr Inah Omoronyia confirmed "It's a great opportunity for our students at Glasgow University to get hands-on experience with building apps for the SAFE network. Security and privacy functions is now core to modern day software systems; our students are really excited to learn new ways of building such systems using cutting-edge technology."
Contact Information
Nick Lambert
Chief Operating Officer
MaidSafe
pr@maidsafe.net
+44 1292 317 311

About MaidSafe
Started in 2006 by Scottish engineer David Irvine, MaidSafe is a team, comprised of thinkers, inventors, tinkerers, PHDs, engineers and designers, who share a mission to provide security and privacy for everyone. MaidSafe has developed The SAFE (Secure Access For Everyone) Network, which is made up of the unused hard drive space, processing power and data connection of its users. It offers a level of security and privacy not currently available on the existing Internet and turns the tables on companies, putting users in control of their data, rather than trusting it to organisations.