The antenna - now ready to purchase - will enable new wireless offerings on trains to increase passenger numbers and satisfaction
Herisau, 5 September - HUBER+SUHNER, leading manufacturer of components and systems for optical and electrical connectivity, has announced the worldwide launch of the SENCITY Rail Multi. The unique roof-top antenna meets the special requirements of rail applications and enables a fully connected fleet, leading to improved customer satisfaction for Train Operating Companies (TOC's).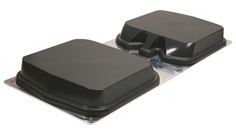 HUBER+SUHNER SENCITY Rail Multi antenna
Designed to improve rail connectivity and drive productivity, the antenna aids the transition to a digital railway, able to deliver connected services to passengers such as Wi-Fi, Real Time Passenger Information, and live seat reservations. It can also benefit Train-to-Ground solutions for rail employees, such as on-board ticketing and remote train control management.
The SENCITY Rail Multi has a special high current protection and operates within a temperature range of -55 to +85°C. In the case of contact with the overhead line in the event of a fault, the high current protection guarantees electrical protection. Designed as a multi-MIMO antenna, it supports the future 5G mobile radio standard, along with all other wireless applications. Equipped with 13 antenna elements, the SENCITY Rail Multi covers a frequency range from 698 MHz to 6 GHz. The compact housing has the same mounting dimensions as conventional existing rooftop antennas, making the upgrade quick and easy.
"Train operators will benefit in many ways from using the SENCITY Rail Multi. Better connectivity to digital services will increase customer satisfaction, and more passengers will travel more miles by rail than ever before," said Cornel Huber, Market Manager Industry and Transport in the Radio Frequency Division of HUBER+SUHNER. "Digitalization opens up new business areas for railway companies. Technically speaking, the new universal antenna is suitable for all types of fleets."
HUBER+SUHNER will be showcasing the SENCITY Rail Multi antenna among other technology at InnoTrans, booth 207 in hall 2.2, at the Messe Berlin, September 18-21.
For further information on HUBER+SUHNER and technologies on display at InnoTrans 2018, please visit: https://www.hubersuhner.com/en
HUBER+SUHNER Group
HUBER+SUHNER, the global company with headquarters in Switzerland, develops and produces components and system solutions for electrical and optical connectivity. HUBER+SUHNER serves customers in the three markets of communication, transportation, and industrial with cables, connectors, and systems developed for the three core technologies of radio frequency, fiber optics and low frequency. HUBER+SUHNER products stand for highest performance, quality, reliability and longevity, even under demanding conditions. The company's global production network, combined with group companies and subsidiaries, ensures that HUBER+SUHNER is close to its customers in over 60 countries. Further information on the company is available at hubersuhner.com
Axel Rienitz
Trade Media Relations
Phone: +41 71 353 42 20
axel.rienitz@hubersuhner.com
Proactive International PR
Rebecca Peel
Phone +44 1636 704888
rebecca.peel@proactive-pr.com