Luka®, the reading companion for children, is a unique storyteller unlike any other. In the form of a smart owl, Luka® sees the title of any children's book and reads it out page by page in a captivating and emotional way. Thanks to this simple form of artificial intelligence, children can have their favourite books read to them independently at any time and are thus being motivated to read. Luka® will be available at a price of €199.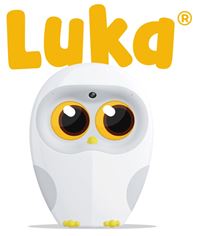 Luka Smart Owl
With the help of Luka®, children between the ages of 3 and 8 are encouraged to rediscover traditional children's books in a playful manner. The friendly owl promotes reading motivation and allows for a new and unique way of learning to read through interactive access to printed books. Luka® recognises each individual page that has been opened and will start reading from it. Thanks to a detailed weekly overview, the Luka® app can also track the child's reading activity and progress. Other features are also controlled via the Luka® app. These include a recording option that parents can use to read and record the content of any book themselves.
The Luka® starter kit already includes a book about the owl's own story. The accompanying recording as well as the books "My daddy can do almost anything" and "The little US" can be downloaded free of charge in the Luka® app.
As easy as ABC
At launch, hundreds of books recorded by professional voice actors are available in the Luka® library. The selection is constantly being expanded. Luka® can also read out any books that are already in the child's room after the corresponding sound recording has been added. The costs per recording range from €1.09 to €3.49 depending on the length and type of setting. The purchase of recordings as well as the first activation of Luka® is done via the Luka® App.
Media contact Luka®:
Sahar Tholen
Director Marketing & Communications
Phone: +49 201 95 98 95-26
Email: sat@ai-tr.com