July, 2012, Ascot, UK – ZBD has won a significant contract to roll out its large format e-paper displays to The Goodyear Tyre and Rubber Company's 'Quick Reifendiscount' stores in Germany. Working alongside installation partner Aha Trade Marketing Concepts, ZBD will provide its e-paper displays to Quick stores over the next few months.
ZBD's e-paper displays are an integral part of an award-winning concept developed by Aha for Goodyear, designed to improve the overall customer experience within Goodyear's 'Quick' stores. Paper labels used in the past were labour-intensive and time-consuming to produce and replace and also obscured the tyres from view.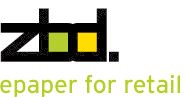 ZBD Logo
The new fully graphic displays are attached directly to products in the store and can be updated regularly in line with stock availability and customer offers. If a store has too much stock of a particular product, or notices that a local competitor is offering lower prices in its store or online, it can quickly update the electronic labels with new pricing to make those tyres more attractive to buyers.
Mr Beck, store manager at the first 'Quick' store to implement the new platform, said: "ZBD's e-paper displays have made our labelling processes vastly more efficient, as price changes can be updated to the displays straight away. On top of that, the visual impact of the displays is very impressive."
He continued: "One of the main reasons for selecting ZBD's displays was that the solution is so simple to install – there was no need to set up a vast network of transmitters or receivers, as the solution is completely wireless."
Commenting on the project, Franz Josef Buschmeier, Head of CEE for ZBD said: "Our simple yet effective e-paper displays are in keeping with the 'Quick Reifendiscount' stores' zero-fuss, reliable and innovative philosophy. This project marks the entry into another new retail sector for ZBD, demonstrating the broad reach of our e-paper solution."
ENDS
Notes for editors
About ZBD:
Formed in 2000 out of QinetiQ, ZBD is a pioneering company with its own R&D, full IPR and scalable manufacturing processes that enable it to deliver an e-paper solution with practical commercial advantages for retailers.
ZBD is a leader in the design and supply of electronic shelf edge labels and associated software solutions for the retail industry. The company has developed the next generation of LCD, creating high-contrast bistability that requires no battery power to retain its image. Its range of e-paper displays provides retailers with a total store solution and the ability to manage and update pricing, product and promotional information at point of purchase, dynamically.
For further information on ZBD, visit http://www.zbdsolutions.com or follow ZBD on Twitter at @zbdsolutions
Media contact at ZBD:
Sarah Hool
Tel: +44 (0)1344 292 110 or +44 (0) 7753 573 490 (mobile) | sarah.hool@zbdsolutions.com
Phil Szomszor / Judith Massey
Tel: + 44 (0) 207 6389571 | zbd@citigatedr.co.uk
ZBD Displays Ltd. | Building 3 | Kingswood | Kings Ride | Ascot | Berkshire | SL5 8AD | UK