Travel brands rank higher by giving searchers a highly browsable experience
SAN MATEO, Calif. (July 12, 2017) ‒ New research from Searchmetrics identifies the important travel industry-specific search ranking factors that travel agents, airlines, hotel chains and other travel-related brands should consider in order to help improve their visibility in Google searches.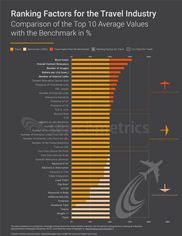 Google's Key Travel Industry-Specific Search Ranking Factors Highlighted in New Searchmetrics Study
A summary of the findings is: Travel brands rank higher by giving searchers a highly browsable experience, helping them easily gather and compare related information. They should also cover topics comprehensively, using more words and more large images, even if this means pages load a little slower.
The research, published in a paper, 'Travel Ranking Factors: Data Insights for Performing on Google', is particularly significant now because Google is better able to deliver more tailored, industry-specific results, assisted by the AI and machine learning technology in its RankBrain system.
"Google now more accurately determines searchers' intentions by analyzing the keywords and phrases they enter in the search box," said Daniel Furch, Head of Content Marketing at Searchmetrics. "It knows the context of individual searches – including whether they relate to travel, retail, finance or other verticals - and ensures that results reflect the characteristics that meet the needs of searchers. For travel marketers, as for marketers in other verticals, this means they can no longer focus solely on generalized, universally applicable rules to drive the best search performance. They also have to take account of specific factors that are important in their specific vertical."
The new travel sector study is based on an analysis of the top 20 search results on Google.com for over 6,000 typical travel-related search terms (examples include 'airline tickets', 'vacation rentals' and 'budget rental car'). Searchmetrics identified the most commonly occurring elements that appear in these travel results, noting how they differ from its separate, broader Google ranking factors study which analyzed the results from 10,000 general, high search volume keywords that apply across all industries.
Below are five learnings from the analysis that travel sites should consider when planning their content and search optimization strategies:
1 Make browsability a priority
Travel-related pages that rank higher tend to be more browsable. That is, they tend to have more internal links that allow searchers to click through and browse related content on the same site. This suggests travel searchers are more interested in comparing a variety of similar options and gathering related background information. The study found that travel-related pages ranking in Google's top 10 results have around 23% more internal links (compared with general results that rank in those positions within its broader ranking factors study). The number of internal links on a travel page and how highly it ranks were also found to show a high positive mathematical correlation of +0.21[1]. Or, the more internal links on the page, the higher it ranks. However, it's not just having a high number of links that helps travel pages to rank well, it's about having an intelligent internal link structure – using the menu, links from the page's main content or sidebars etc. – that guides visitors intuitively through the website.
"Travel-related brands need to ensure their web pages intelligently link to related content throughout their site, so searchers can easily find relevant content and background to help them compare and decide on their travel plans," said Furch. "This is not surprising as planning a vacation for example involves so many details - from flight times and luggage allowance to insurance, car-hire, and seasonal weather patterns. Searchers want to be able to find answers to all those questions as painlessly as possible."
2 Don't be afraid to include plenty of large images
Pages that rank in the top ten Google results for travel-related queries use around 38% more images over 200 pixels per page. Using more larger images can increase the file size and slow down page load times, and Searchmetrics' analysis indicates that travel-related pages listed in the top ten results have a 40% larger file size and take almost 3 seconds longer to load (travel pages take 10.6 seconds to load on average, while the average across all industries is 7.8 seconds). So, Google appears to understand that travel searchers value seeing more higher quality images above a streamlined site that loads quickly.
3 Be comprehensive – even it means being more wordy
Travel-related pages that rank higher tend to carry more text than other high ranking pages. In fact, Searchmetrics' analysis indicates that travel results that make it into Google's top ten results average over 2,500 words per page, which is 57% more than in the company's wider benchmark Google Ranking Factors study (the average across all industries is 1,633 words per page for results that rank in the top 10). Obviously, this suggests travel marketers should be comfortable using longer copy to cover topics comprehensively.
4 Use longer lists
Pages that rank in the top 10 results for travel-related searches have longer bullet point lists - nearly four more bullet points per list than pages in the general results published in the benchmark study. As with the need for longer copy and links pointing to related content, this finding suggests travel sites need to prioritize satisfying searchers' hunger for detailed information. After all, using bullet points makes it easier to assimilate details - everything from hotel descriptions to holiday packages and car-hire terms.
5 Don't fret about keywords
Travel pages that rank in the first two pages of Google use the searched-for keyword or phrase far less frequently in the text than other top-ranking pages. The study found that travel results included the searched keyword on the page around half as much as search results on the first two pages for general searches (travel pages in the study mention the keyword three times on average versus 7.4 times for general search results pages). Keyword matching is a simplistic, outdated SEO technique and it seems even less effective in travel, where brands need to be focusing on creating relevant, informative, comprehensive content that addresses the searchers' needs.
To download 'Travel Ranking Factors: Data Insights for Performing on Google' visit: http://www.searchmetrics.com/knowledge-base/ranking-factors-travel/
This is the latest in a series of Searchmetrics industry-specific ranking factors studies focusing on individual verticals. Other vertical studies can be downloaded here http://www.searchmetrics.com/knowledge-base/ranking-factors-industry/.
About the study
Searchmetrics analyzed the top 20 desktop search results on Google.com for over 6,000 industry-specific keywords that are relevant to the travel sector. It identified the common factors that are present in these results to help identify elements that are associated with a high Google ranking. The findings were then compared with Searchmetrics' separate benchmark study of Google ranking factors which analyzed the results for a general set of 10,000 keywords across all industries.
[1]The correlation was measured using Spearman's rank correlation coefficient
About Searchmetrics
We are your pathfinder to content that uniquely matches user intent with the deep learning insights of the Searchmetrics SuiteTM and Searchmetrics Content Experience platforms. Search has evolved into a data-driven field that requires powerful tools to guide companies through discovery, optimization and measurement of engaging storytelling.
There's only one search and content development platform that owns its data: Searchmetrics, the world's #1 SEO and content performance platform. We don't rely on data from third parties. Our historical database spans five years and contains over 250 billion pieces of information, such as keyword rankings, search terms, social links and backlinks. It includes global, mobile and local data covering organic and paid search, as well as social media. We have the largest global reach of any search platform, crawling the web every day in more than 130 countries.
Searchmetrics monitors and reveals the full business available to you online. We provide our customers with a competitive advantage and help them to identify new business opportunities by exposing the content consumers are engaging with on industry and competitors' sites. Our SEO Visibility Score − trusted by reputable media sources such as The New York Times, Bloomberg and The Guardian − reliably indicates your online presence.
We provide the insights our customers need to deliver results. Searchmetrics guides SEOs and content marketers with suggestions for creating content that improves relevance and boosts conversions. It shows the connection between social media links and overall engagement. And its analytics make clear which content performs the best and how an organization's content performs against its competitors'.
With Marcus Tober, one of the top 10 SEO minds in the world, leading Searchmetrics' product development, we have over 100,000 users worldwide, many of whom are respected brands such as T-Mobile, eBay and Siemens. They all depend on Searchmetrics and our 12 years of product innovation to maximize their online performance.
More information: www.searchmetrics.com.
Media Contact
Uday Radia
CloudNine PR Agency
uradia@cloudninepr.com
+44 (0)7940 584161