…New built-in supply chain and product carbon footprinting capability...
London – Friday 19th November 2010 - Greenstone Carbon Management, the global specialist carbon solution company, has announced today the release of version 2.4 of its Acco2unt carbon management software which has been enhanced to meet the changing needs of managing carbon accurately and cost efficiently across the supply chain.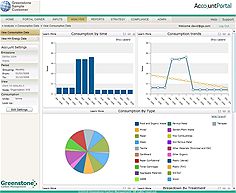 Screen shot of Greenstone Account 2.4 Consumption Waste Dashboard
Greenstone's Acco2unt 2.4 has evolved in three key areas. First, the software incorporates supply chain and product carbon footprinting capability in response to pressure from leading FMCG brands on their suppliers to provide information on environmental performance indicators, including the reporting of carbon emissions. Second, offset and allowance management has been included in the 2.4 release, allowing clients to record voluntary carbon credits purchased across their organisation and the number of CRC allowances purchased throughout the CRC reporting year, together with the ability to track progress against actual performance. The addition of a carbon balance sheet means that clients can now also report their credits and allowances in financial terms. The third enhancement includes improved analysis and reporting dashboards, allowing more comprehensive and granular analysis of carbon emissions, consumption and cost data across the client's organisation.
Matthew de Villiers, Chief Executive Officer at Greenstone Carbon Management, said, "Acco2unt is now deployed in more than 32 organisations in over 75 countries and our users provide a valuable source of ideas to enhance and advance our functionality. This ensures that development priorities are focused on real client requirements. Management of supply chain and product emissions are still at an evolutionary stage in the market but a number of our clients and prospects are now focusing on these areas having got control of their own operational emissions. This release also addresses the need for increasingly detailed data analysis, often at an operational unit level, as more mature clients move from simply measuring and reporting to the development of more detailed management and reduction strategies.
Many of Greenstone's global clients are participants in the UK CRC scheme and while details of the revised scheme have not yet been released, the compliance section of Acco2unt has been updated to provide comprehensive allowance tracking and forecasting capability for compliance schemes such as CRC.
Matthew adds, "This latest release of Acco2unt again demonstrates Greenstone's continued commitment to providing our clients with a world leading carbon management solution, enabling those responsible for carbon management to continue to realise significant carbon, consumption and cost benefits by using Acco2unt."
Summary of new enhanced features of Greenstone Acco2unt 2.4 include:
Enhanced analytical dashboards allowing a more comprehensive analysis of carbon emissions, consumption and cost data across organisations.

New supply chain and product carbon footprinting capability as the pressure increases from leading FMCG brands on their suppliers.

New offset and allowance management functionality to record voluntary carbon credits purchased across their organisation and track the number of CRC allowances purchased, together with tracking actual progress throughout the CRC reporting year.
For further information or a demonstration please contact info@greenstonecarbon.com
- ends -
Notes to Editor
*Greenstone's unique Acco2unt software product suite provides organisations with robust carbon management and accounting solutions. It enables organisations to measure, manage, plan, store and report emission data, track performance on their carbon footprint at multiple organisational levels and to accurately model carbon footprint reduction strategies. Acco2unt can significantly reduce the burden of auditing and reporting for compliance purposes, for stakeholders and customers. An extensive list of emission sources is included in the software's calculation covering energy, refrigerants, travel, freight, waste, water and ICT. Greenstone's extensive CO2re knowledge database applies the latest climate change impact factors according to national and international protocols e.g. GHG, Defra, CRC, Bilan Carbone, etc.
About Greenstone Carbon Management Limited
Greenstone Carbon Management Limited is a specialist carbon solutions company – based in London, United Kingdom. Formed in 2006, it works in partnership with major commercial and public sector organisations to help measure, manage and mitigate their carbon emissions to realise business and financial benefits. Greenstone's proposition comprises both consulting advice and access to a suite of Carbon Management software tools through a SaaS model.
Typically, engagements with clients follow a three step process: (i) Carbon Readiness Assessment; (ii) Carbon Measurement and (iii) Carbon Reduction Strategies. During the engagement, Greenstone will provide tools to help measure and manage the organisation's carbon emissions, help set up processes to gather data and to train personnel to manage their carbon footprint on an ongoing basis.
Greenstone has worked with a range of global businesses and respected brands such as the Freshfields Bruckhaus Deringer, Fujitsu and Ocado Limited. For further information please visit http://www.greenstonecarbon.com
Press contact:
Lena@technologypr.eu
Technology PR
Mobile +44 07908 725212