…Sustainable Sourcing event, 21st September 2010, Kingsway Hall Hotel, London, UK…
Friday 17th September 2010 - Greenstone Carbon Management, the global specialist carbon solutions company, has announced today that it will host a workshop at the Sustainable Sourcing for the food and beverage industry conference in Holborn, London. The conference which will be held 21st - 23rd September 2010 will help participants explore the latest updates on integrating sustainable sourcing into businesses, and the latest approaches to measuring the environmental impacts of food products.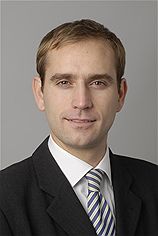 Hugo Seymour, Carbon Consultant at Greenstone Carbon Management
The Greenstone workshop is scheduled to start at 9.00am GMT on Tuesday 21st September 2010. The one day programme will help provide practical advice on how to measure and reduce carbon emission and will address three elements: (1) Complying with carbon Regulations and strengthening your brand while improving your bottom line; (2) Examining strategies for establishing metrics, and (3) Exploring, designing and implementing your carbon reduction strategy.
Hugo Seymour, Carbon Consultant at Greenstone Carbon Management explains, "Significant carbon emissions are associated with the manufacturing, distribution and consumer use relating to the products of FMCG brands. A large proportion of those brands are now reporting their carbon emissions in response to both reputational pressures arising from the growth of voluntary reporting initiatives and through compliance with developing regulatory regimes around the world. The savviest of these brands are now recognising the benefits that carbon measurement and reporting can bring in terms of margins and business growth. The more proactive of these brands are recognising the potential business opportunities that can be achieved."
According to Greenstone Carbon Management there are two key business drivers for FMCG brands to address carbon management right now:
Cost Reduction – Information on the carbon emissions of suppliers can constitute a good indicator of the efficiency of that supplier, particularly when compared between competitors. This provides a useful negotiating tool in driving down the costs of suppliers that may be capable of improvements in production efficiency, thereby increasing business margins and minimising the supply chain emissions for the FCMG brand.

Market differentiation – as a result of measuring and reporting carbon emissions, FMCG brands can differentiate themselves and their products in the marketplace from those not providing such information. This creates a new and unique angle to drive sales particularly in areas where customers are increasingly concerned with sustainability impacts.
Seymour adds," Our presence at the Sustainable sourcing event is to help businesses understand where to begin the carbon management process and how they can secure the cost benefits of incorporating the carbon angle into supply chain management, as well as establishing a longer term path to business growth on the back of market differentiation. This process can be a complex task for many organisations and we are here to offer practical advice and solutions."
The Greenstone workshop has been specifically developed to help those responsible for managing carbon emissions such as directors and heads of sustainability, supply chain directors, procurement directors and energy managers. For further details about the event or to register please visit: http://sustainablesourcing.agraevents.com/ or if you are unable to attend the event but would like some further information please email info@greenstonecarbon.com
- ends -
Notes to Editor
About Greenstone Carbon Management Limited
Greenstone Carbon Management Limited is a specialist carbon solutions company – based in London, United Kingdom. Formed in 2006, it works in partnership with major commercial and public sector organisations to help measure, manage and mitigate their carbon emissions to realise business and financial benefits. Greenstone's proposition comprises both consulting advice and access to a suite of Carbon Management software tools through a SaaS model.
Typically, engagements with clients follow a three step process: (i) Carbon Readiness Assessment; (ii) Carbon Measurement and (iii) Carbon Reduction Strategies. During the engagement, Greenstone will provide tools to help measure and manage the organisation's carbon emissions, help set up processes to gather data and to train personnel to manage their carbon footprint on an ongoing basis. Greenstone has worked with a range of global businesses and respected brands such as the Virgin Group, Fujitsu and Ocado Limited. For further information please visit http://www.greenstonecarbon.com
Press contact:
Lena@technologypr.eu
Technology PR
www.technologypr.eu
Mobile +44 07908 725212