London - 24 September, 2019 - Gresham Technologies plc, the leading software and services company that specialises in providing real-time solutions for data integrity and control, banking integration, payments and cash management, today announced a partnership with AccessPay, significantly enhancing its market-leading Clareti Multi-Bank cloud-based solution with connectivity to AccessPay's enterprise-to-bank integration platform.
A global provider of real-time solutions for cash management and payments control, Gresham required a partner that could help accelerate the adoption of those solutions within its corporate and financial institution client base for both UK and international payments.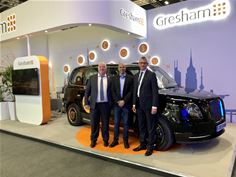 Gresham Technologies and AccessPay at Sibos 2019
As part of the agreement, Gresham's Clareti Multi Bank customer will be able to seamlessly connect with certain banks through the AccessPay platform via the international payment rail, SWIFT. Gresham customers will also be able to access the breadth of AccessPay's platform for connectors into UK payment schemes such as Bacs.
AccessPay, Chief Executive Officer, Anish Kapoor said:
"We are delighted to be partnering with Gresham to help them meet their growth objectives in this evolving enterprise market-place. More and more businesses have the opportunity to develop service lines and overcome restrictions of existing systems and further software development.
"Gresham needed a partner that could work with their Clareti platform, to open up access to a full payment and connectivity suite. The AccessPay enterprise-to-bank integration platform provided that solution.
"The manual processes and bespoke, often costly, technology integrations of the past are being replaced at an expanding rate. At its heart is the emergence of connector platforms that deliver real-world enterprise-to-bank integration. This is enabling greater collaboration between financial organisations, and our partnership with Gresham is evidence of this."
Gresham Chief Executive Officer, Ian Manocha commented:
"As change in the payments landscape continues apace, our institutional cash management clients are asking for ever more efficient banking connectivity and easy access to multiple payment schemes, via secure and robust channels. Integrating AccessPay's platform capabilities into the Clareti Multi-Bank service enables our customers to have extensive reach into the world-wide banking community.
Alongside technical fit, functionality and resilience, security was also high on our list of selection criteria when assessing potential partners. AccessPay's platform, certified as it is with accreditations such as the SWIFT Customer Security Programme, fulfilled that essential security need.
This partnership is an excellent example of collaboration between two respected FinTech's and will bring rapid and tangible benefits to our clients."
… ends …
About AccessPay
AccessPay is the fastest growing integration platform for enterprises, fintechs and financial institutions.
The AccessPay platform integrates any ERP, payroll, TMS or back-office system quickly and easily with over 11,000 banks and fintechs across the globe.
For enterprises, the platform allows finance and treasury teams to automate and change payment and cash management flows with agility, in a secure and controlled environment.
The platform makes it easy for organisations to take advantage of new products and services from their banking providers and fintechs, enabling faster innovation and response to changing market dynamics.
Thousands of UK and International organizations rely on the AccessPay integration platform to support their finance and treasury operations every day.
About Gresham
Gresham is a leading software and services company that specialises in providing real-time solutions for data integrity and control, banking integration, payments and cash management. Listed on the main market of the London Stock Exchange (GHT.L) and headquartered in the City of London, its customers include some of the world's largest financial institutions and corporates, all of whom are served locally from offices located in Europe, North America and Asia Pacific.
Gresham's award-winning Clareti software platform is a highly flexible and scalable platform, available on-site or in the cloud, designed to address today's most challenging financial control, risk management, data governance and regulatory compliance problems.
Media contact – Gresham Technologies plc
Jenny Swift
E - jswift@greshamtech.com