Recently the news has been full of scandals about beef supply. These have included the story about horse meat and pork being found in beef burgers. There have also been stories about stolen cattle and other animals which are then illegally butchered and sold on with the very real danger that they have dangerous medicines still in their bloodstream.
According to Agrantec, the British agri-food supply chain management service company, this offers an opportunity to farmers to differentiate themselves.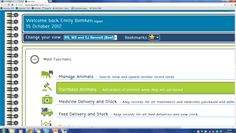 Farmango software 1
Says Martin Coates, CEO of Agrantec: "Recent developments in the food industry, for example in the growth of farm shops, have clearly shown that consumers are prepared to pay more if they can be sure that they know where their food is coming from. And, for most of the beef that they eat today, that is not the case. In the UK beef market today, traceability is very limited. Once beef leaves the abattoir, information on its origin is usually lost. Although there is a paper trail, in practice this is quite difficult to follow. As a result most farmers cannot build their own brand and are forced to take part in a commodity market. Commodity markets usually mean lower prices."
Agrantec has launched a food chain management system called "Farmango". This allows the full history of each animal that passes through a farm to be recorded and to be made available, under controlled conditions, to other members of the food supply chain. This means that, if the reference number for the animal is passed down the chain, any chain member can see the full history.
Says Robin Burton, Marketing Manager at Agrantec: "This means that, for the first time, farmers can build a brand. Their customers, however far they are down the chain, can, if the farmer allows, see key information about the meat that they are buying. They can see, for example, where the animal it came from has been raised and how it has been treated. They could also see how the meat itself has been cared for; how long it has been hung and so on. Ultimately a consumer, in a shop or restaurant, could point their smartphone at the label on a piece of meat and see the farm that it came from and a summary of how the meat was produced. This means that farmers can build their brand, achieve product differentiation, and therefore get higher profits. "
About Agrantec
Agrantec is an independent company with no affiliations to other organisations in the food supply chain.
We are experienced IT professionals with in depth knowledge of large scale, multi-user systems developed using the latest technologies to make the systems fast and easy to use.
We have experience of agricultural supply chains and have been involved in running large and small scale operations coupled with a good understanding of the technical challenges as well as the commercial pressures they operate under.
Agrantec uses the same ideas we see in smart mobile telecommunications. We want to use automated links, wherever possible, for real-time data capture and analysis. The opportunity for technology to do much of the 'heavy lifting' in record keeping, provision of management information, traceability and meeting statutory requirements is huge and so far under used as a solution for hard pressed farmers and their business partners.