UK start-up sees shift in culture as companies throw out formal appraisal systems to talk more

200% projected new revenue growth illustrates strong demand for simplicity in performance management
London UK, 2 October 2018: Clear Review, the UK start-up which raised £500,000 in May 2018, today announced its 100th customer signing, just two years after it was founded in 2016.
Clear Review, a performance management platform that promotes continuous employee feedback and conversation, was founded in 2016 by entrepreneur Stuart Hearn, previously HR Director at Sony. Focused on the mid-size market, and created with the vision to provide an alternative to annual appraisals, Clear Review is meeting a rapidly growing demand for simple technology solutions that both enable and promote continuous employee/manager conversation and real-time feedback.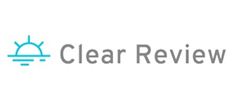 Clear Review logo
The company has grown revenues 200% year on year since its inception, and has a customer retention rate of 98%. This exponential growth has also precipitated a +300% increase in headcount over the past year in full-time employees. The company is looking to continue its recruitment drive into 2019 and will also be opening a new office in central London next month. Clear Review was also named one of the Great HR Apps for 2018 by Disruptive HR.
"It's been a rewarding journey since founding the company, and it's great to see customers signing up to this new way of appraising and engaging their employees," said Stuart Hearn, CEO of Clear Review. "Most encouragingly, HR teams are clearly embracing change as they see the huge opportunity to impact engagement, retention and performance metrics by adopting less contrived and clunky systems, and empowering their people through regular developmental conversations."
Customers who have switched from traditional annual appraisals to the Clear Review framework include Clydesdale & Yorkshire Banking Group (CYBG), Perkbox, Aston Villa, The Chartered Institute of Marketing, Kennedys Law, Newport City Council, and Investors in People.
Francis Lake, Head of Organisational Development at CYBG explained: "Prior to engaging Clear Review, our performance management had been too process driven so we knew we needed to make changes. Our performance management approach is now focused on encouraging feedback conversations, creating stretch, and improving teamwork. The technology also provides valuable insight that steers future planning and delivers the foundations for good management. Clear Review possess a deep level of performance management expertise and have become a key partner in achieving our goals."
Hosted on Amazon Web Services, Clear Review's conversation platform allows managers to set objectives and provide ongoing, manager to employee and employee to manager feedback. Data is then fed to HR in order to monitor adoption and encourage accountability. There is also simple data capture functionality to ensure annual or quarterly 'talent snapshots' can be taken to inform pay and promotion decisions.
--END--
About Clear Review
Clear Review enables organisations to move away from broken annual appraisals to more meaningful, continuous employee feedback. The company serves the mid-size market, facilitating more human, future-focused employee performance conversations, and generating the positive organisational gains that come with this.
Hosted via the Cloud, Clear Review has more than 100 customers, with key brands including Perkbox, Centaur Media, Faber & Faber, and CYBG.
Additional Resources
Learn more about Clear Review on the website.
Follow Clear Review on Twitter and LinkedIn.
PR contact
Sally McDonald
CommsCo
+44 (0)20 3697 6680
smcdonald@thecommsco.com