Addressing the evolving technical requirements of the modern battlefield, the worldwide launch of the Spuma RS demonstrates high flexibility for mobile applications, while the new High-Power Limiters offer proven protection for sensitive electronics
Paris, 4 June. Leading manufacturer of components and systems for optical and electrical connectivity, HUBER+SUHNER, is set to highlight its powerful new solutions designed for the rigors of Defense applications at Eurosatory 2018, in Paris, June 11-15.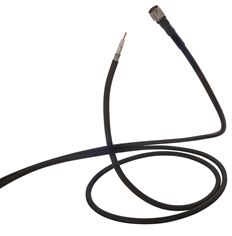 Spuma RS
Spuma RS is the latest addition to the HUBER+SUHNER family of low-loss RF cabling. Designed for military vehicular and naval applications, this unique and modern solution is encased in a TPU jacket material making it flame-resistant, yet its flexibility is not compromised, meaning it can cope with the physical stress associated with mobile defense applications. At the same time, the patented rotary swaging technology allows the combination of increased flexibility with low signal loss.
"Designing for lower insertion losses typically provides cable improvements that come at the expense of cable flexibility," said BJ Lyman, Market Unit Manager, Aerospace and Defense. "Spuma RS has been designed specifically to offer industry leading insertion loss and flexibility in one cabling solution. This is due to the combination of both material selection and patented manufacturing technique known as Rotary Swaging, where the individual stranded center contacts are compressed during production to remove air gaps; providing the unique combination of lower-loss and flexibility."
HUBER+SUHNER is a leading manufacturer in the field of Lightning, EMP and Resistive Components. Another new and innovative technology are the High Power limiters, offering proven protection for sensitive electronics. With a unique integration of protective capability against lightning, ESD and high-power microwave (HPM) in one compact device, the limiters support a variety of applications such as Electronic Intelligence, Signals Intelligence, Command, Control, Communication Intelligence, Surveillance and Reconnaissance or Ship's Signal Exploitation.
The breadth of HUBER+SUHNER capabilities offer unique "Connectivity Convergence" solutions for the modern battlefield. Command & Control Shelter connectivity illustrates perfectly the benefits of an RF-over-Fiber solution by incorporating the latest in Optically Switched RF-over-Fiber solutions, Optical Multiplexers, along with traditional RF and Copper-based products. This convergence of these technologies assures fast, reliable, and seamless connectivity in mission-critical environments. On display are RF-over-Fiber Solutions including an array of RF-over-Fiber Transceivers, GPS-over-Fiber and LAN-over Fiber products.
Lyman added: "As a global interconnect leader with years of experience in the fields of Radio Frequency, Fiber Optic and Low Frequency, HUBER+SUHNER has a unique capability to develop cost-effective and technically superior products serving Defense and Aerospace applications. This is based upon our ability to converge these technologies to ultimately offer higher-value RF Solutions to address the evolving technical requirements of the modern battlefield."
All the products noted above will be presented at the HUBER+SUHNER booth located in the Hall 6, Swiss Pavilion, No. J-197, at Eurosatory 2018 from 11-15 June. For more information see www.eurosatory.com
The HUBER+SUHNER Group
The globally active Swiss company HUBER+SUHNER develops and manufactures components and system solutions for electrical and optical connection technology. The company provides customers in the communication, transportation and industrial markets with cables, connectors and systems for the three key areas of radio frequency, fibre optics and low-frequency technologies. HUBER+SUHNER products are characterised by outstanding performance, quality, reliability and durability, even in demanding conditions. HUBER+SUHNER maintains close relationships with its customers in more than 60 countries as the result of its global production network, own companies and sales offices. Further information about the company is available at hubersuhner.com.
HUBER+SUHNER team
Proactive PR
Tel: +44 1636704888
hubersuhner@proactive-pr.com