Discover the SENCITY® Occhio MIMO 4x4 antenna – featuring a sleek futuristic design and smart mounting features, the antenna provides perfect RF performance
With 5G on the horizon, operators will require access to more bandwidth than ever before. Reliable, fast coverage, extended capacity and simplistic installation processes are vital factors and top priorities for operators as they look for the best technology on the market to support their journeys to 5G.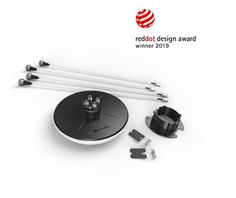 HUBER+SUHNER SENCITY Occhio Antenna
Along that journey, always-on mobile communications, especially within indoor environments has become critical. In Pacifico Yokohama, HUBER+SUHNER will unveil the key to indoor small cell connectivity, SENCITY Occhio, the latest addition to its antenna portfolio.
Among its attributes, the SENCITY Occhio MIMO DAS (Distributed Antenna System) or small cell antenna, offers the operator 5G coverage, a simple, time-saving installation process and an attractive industry preferred design with a small form factor.
"The SENCITY Occhio MIMO antenna is a unique combination of stylish design and innovative engineering which appeals to both interior designers and architects," said Claudia Bartholdi, Product Manager in the Radio Frequency Division at HUBER+SUHNER. "The new antenna has received the 'Red Dot Award for Product Design 2019' in the category communication technology. The design, developed by Christian Keller (erfindergeist GmbH), convinced the international jury with its unique brand identity."
"What once was a trade-off between electrical performance and design, SENCITY Occhio mitigates these concerns and is robust, reliable and enables a simplified densification of the network in an unobtrusive, attractive design. The antenna's innovative smart-connect system guarantees a quick and efficient installation process."
Thanks to its multiband capability between 1.7-6 GHz and 2x2/4x4 MIMO configurations, the SENCITY Occhio antenna fulfils the multiple requirements of the 5G standard and equally meets current 4G applications.
As standard, the antenna utilises the latest NEX10® connector interface, with outstanding PIM (Passive Intermodulation) performance. Cable assemblies to connect the SENCITY Occhio to any other interface are also available upon customer request.
Attendees of Microwave Workshops & Exhibition 2019 can find HUBER+SUHNER in Exhibition Hall at stand C-04 (M-RF Co., Ltd.) from 27-29 November in Pacifico Yokohama, Japan. For more information on the SENCITY Occhio antenna please visit https://www.hubersuhner.com/en.
To arrange a briefing or product demonstration, please contact the HUBER+SUHNER team on the details below.
HUER+SUHNER Group
Axel Rienitz
Trade Media
Phone +41 44 952 2560
pressoffice@hubersuhner.com
Proactive International PR
Phone +44 1636 704888
hubersuhner@proactive-pr.com
HUBER+SUHNER Group
HUBER+SUHNER is a global company with headquarters in Switzerland which develops and manufactures components and system solutions for electrical and optical connectivity. With cables, connectors and systems – developed from the three core technologies of radio frequency, fiber optics and low frequency – the company serves customers in the communication, transportation and industrial sectors. The products deliver high performance, quality, reliability and long life – even under harsh environment conditions. Our global production network, combined with group companies and agencies in over 80 countries, puts HUBER+SUHNER close to its customers. Further information on the company can be found at hubersuhner.com.