Halton Housing Trust has chosen Caretaker Software from 1st Touch (www.1sttouch.com). The software will be used by Halton's Estate Services and Environmental teams across 140 communal flat blocks and over 200 green space areas.
Halton Housing Trust is a forward thinking and dynamic not-for-profit housing association that owns and manages over 6,700 homes with over 16,000 customers in the Cheshire towns of Runcorn and Widnes. Halton's Board works closely with its executive management team to ensure the Trust's Strategic Aim of 'Improving People's Lives' is achieved. Maintaining efficient Estate and Environmental services is a part of this strategy and Halton Housing Trust is using 1st Touch to streamline the activities of its Estate Service and Environmental team members.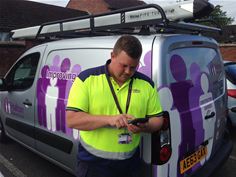 Halton Housing Trust
By using the software, re-occurring appointments are scheduled through the 1st Touch Diary facility. On completion of the activity this creates a contact in Halton's Aareon's QL Housing Management system so that the information is available to all staff through CRM. Whilst out on site, team members can also report fly tipping, graffiti and repairs using the 1st Touch module, which generates a workflow into QL to rectify any problems. Both teams also carry out van checks and grounds maintenance staff carry out a daily machine test. This information is sent to the 1st Touch Portal where managers can review any issues that have been flagged on the checks and tests.
Halton Housing Trust chose the software as they had a positive and in-depth experience of a number of other 1st Touch modules as part of its Digital First Strategy. These include: Responsive Repairs, Arrears Management, Neighbourhood Management, Tenancy Support and also an ASBO module.
The system delivers a number of key benefits. As Carole Galsworthy, Director of ICT and Business Improvement at Halton Housing Trust says: "We invested in the Caretaker software as part of our Digital First programme. By using mobile technology, we can jointly drive efficiency and enhance customer experience; which are both desirable outcomes. The biggest benefit will be that the whole process is now paperless, so therefore information on completion of work is instantly available to team members and management alike. In addition, the processing of daily tasks and the ability to reassign work is now automated and has become far more structured. Team members are able to raise ad hoc tasks from the diary and direct from the tablet. All tasks and outcomes are recorded so this makes performance reports far more accurate. Ultimately though the real beneficiaries of the increases in efficiency are our customers, who value how well maintained and managed their blocks, estates and open spaces are."
For his part, Greg Johns CEO of 1st Touch, welcomed Carole Galsworthy's comments adding, "As part of its Digital First programme, Halton Housing Trust is committed to introducing mobile working in order to reduce costs, drive efficiencies and most importantly to support its customers. One key element of this programme is the work done by the Estates Services and Environmental teams. We are delighted that they have chosen 1st Touch Caretaker to deliver these key benefits to this function and we look forward to helping them fully exploit the system's benefits in the field."
ends
Note to Editors: About 1st Touch (www.1sttouch.com)
Southampton based 1st Touch, a subsidiary of Aareon AG (www.aareon.com), has enabled dozens of field workforce-based organisations to embrace new mobile technologies and so achieve significant savings, greater productivity and more cost-effective use of resources. 1st Touch Mobile delivers clear and unique benefits: These include the system's acclaimed 'Smart Airtime' feature where 'airtime' is minimised and the system is always available with or without 'airtime'. The system's flexibility through simple customer control over forms creation and amendment is also widely acclaimed. There is Integration to multiple back office and other enterprise software applications, so that data is entered only once.
With its widely acclaimed mobile technology, 1st Touch has a clear focus on the Social Housing and Local Government markets. Many social housing providers and local authorities, at large, now benefit from the fast and tangible, best of breed benefits that 1st Touch mobile technology delivers to the enterprise.
To date, over 50% of the social housing market, which has deployed mobile technology, has chosen to implement 1st Touch. In local government, 1st Touch has already been adopted for a wide range of mobile workforce uses. Ready to use applications for local authority organisations include: Public Buildings, Highways/Street Services, Environmental/Waste Management, Revenues and Benefits, together with Planning Control and Trading Standards.
1st Touch software is available on a wide variety of platforms including: Windows Mobile, Apple and Android.
For further information on 1st Touch please contact:
Sally Cops
1st Touch
02380 111206
sally.cops@1sttouch.com
www.1sttouch.com
or
Leigh Richards
The Right Image PR & Marketing Group
07758 372527
leigh.richards@therightimage.co.uk
www.therightimage.co.uk