Autonomous vehicle OEM 2getthere will support ZF Friedrichshafen in its development of next generation of driverless cars and future urban mobility solutions
LONDON & UTRECHT, 19 March 2019 – Hampleton Partners, the international mergers and acquisitions and corporate finance advisory firm for technology companies, has advised 2getthere Holding B.V., a leading manufacturer of driverless electric shuttles for future urban mobility, on its majority acquisition by ZF Friedrichshafen, the global automotive supplier and front-runner in developing the next generation of autonomous vehicle technology. This is the second autonomous vehicle technology transaction closed by Hampleton within the space of nine months.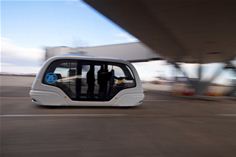 Airport Transport - 2getthere and ZF Friedrichshafen
"Hampleton led a great process from start to finish, introducing us to an outstanding partner in ZF that will unlock the next dynamic growth phase of our company. Hampleton's level of experience and, above all, profound understanding of the automotive market, led us to the best possible transaction," said Carel van Helsdingen, Founder & CEO of 2getthere, the world's first provider of autonomous vehicles in commercial applications, operating since 1996. "We're excited to embark on the next stage of this journey, collaborating with ZF to become the world leader in autonomous vehicles, as we continue to develop and deliver the answer to the world's future urban mobility needs."
The transaction offers ZF Friedrichshafen a world leader in autonomous urban transit and e-mobility solutions, while globally extending 2getthere's commercial and technology reach.
David Riemenschneider, a seasoned automotive veteran and Head of Hampleton's Automotive Practice, who has worked and completed deals in the automotive industry for over three decades, commented:
"We are extremely proud to have partnered with 2getthere, pioneers in the driverless electric vehicle market who have a legitimate claim to the future of urban mobility. The 2getthere executive team has shown incredible talent, vision and drive to get to this point. I am personally looking forward to seeing the company, led by an outstanding management team, continue to reach new heights in cooperation with ZF.
"One thing is clear: autonomous vehicles will not just change future mobility choices but will also transform everything from urban planning, global supply chains and even the way people live, work and play. The tie-up between 2getthere and ZF puts the combined company firmly in control of this revolution."
Miro Parizek, principal partner and founder at Hampleton, commented: "As Hampleton Partners' second successive autonomous vehicle transaction in less than a year, 2getthere's successful process enabled by our experienced industry team adds yet more evidence to our statement that strategic and in-depth understanding of the automotive industry, technology and financial markets leads to game-changing transactions."
The engagement was led by David Riemenschneider, with Nicholas Milligan and Anton Røthe supporting the transaction at Hampleton.
Hampleton Partners Contacts
David Riemenschneider
Head, Automotive Practice
davidr@hampletonpartners.com
+44 7590 476702
Nicholas C Milligan
Senior Analyst
nicholas@hampletonpartners.com
+44 7423 167237
Anton A Røthe
Associate
anton@hampletonpartners.com
+44 7490 195842
Media Contact – Hampleton Partners
Jane Henry
jane@marylebonemarketing.com
+44 789 666 8155
www.marylebonemarketing.com
 
About Hampleton
Hampleton Partners is at the forefront of international mergers and acquisitions and corporate finance advisory for companies with technology at their core.
Hampleton's experienced deal makers have built, bought and sold over 100 fast-growing tech businesses and provide hands-on expertise and unrivalled international advice to tech entrepreneurs and companies who are looking to accelerate growth and maximise value. The team has substantial experience with transactions in the automotive technology space, underscoring its understanding of the industry drivers and market dynamics.
With offices in London, Frankfurt and San Francisco, Hampleton offers a global perspective with regional and sector expertise in: Automotive Tech, IoT, AI, FinTech, High-Tech Industrials, Cybersecurity, VR/AR, HealthTech, Digital Marketing, Enterprise Software, IT Services, SaaS & Cloud, E-commerce.
Download Hampleton's market analysis reports here: https://hampletonpartners.com/research/.
Follow @TeamHampleton on Twitter, LinkedIn and Facebook.
https://www.hampletonpartners.com
About 2getthere
2getthere is the leading provider of fully autonomous electric vehicles, transit systems and driverless software for over 20 years. As the only company to have designed, developed and delivered multiple driverless electric transit solutions in daily operation, 2getthere is the global technology leader in this field. Among its many achievements, 2getthere delivered the world's first personal rapid transit system in Masdar City.
Further information about 2getthere is available at https://www.2getthere.eu/
About ZF
ZF is a global leader in driveline and chassis technology as well as active and passive safety technology. The company has a global workforce of 146,000 with approximately 230 locations in some 40 countries. In 2017, ZF achieved sales of €36.4 billion and as such, is one of the largest automotive suppliers worldwide.
Further information about ZF is available at https://www.zf.com/