A headteacher is aiming to tackle the shortfall in one-to-one pupil-teacher support in many schools by launching his own video e-learning hub.
Leon Hady, the celebrated headteacher at Nottingham's Stone Soup Academy, has self-funded TuitionKit, an online suite of interactive video content to support revision in Maths, English and Science for GSCE and A Level students aiming for the highest grades.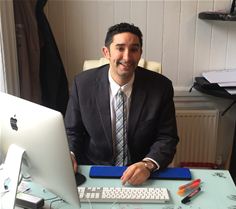 Leon Hady
This comes amid concerns that teachers across the country have less time to focus on individual student revision in the run up to GCSE exams, due to increased administrative demands and limited resources.
Leon said: "The growing burden of red tape placed on many teachers is restricting ability to provide booster sessions for pupils needing the most help. As a result, parents are turning to private tutoring at considerable cost – which just isn't an option for poorer families. High quality tuition should be available to everyone, regardless of how much their parents earn."
TuitionKit is an affordable subscription service which allows pupils to watch over 1,000 tutorials and review over 200 model exam question answers, all the while tracking their learning progress. Pupils learn at their own pace, away from inappropriate content and adverts that can punctuate tutorials on YouTube, for example.
Leon said: "I've been sharing revision guidance electronically since 2009 and it has consistently improved the grades of many pupils. Feedback indicates that people prefer to learn by tracking and controlling their progress - recapping, taking breaks and focussing on the subject matter that will help the most in their exams.
"I set up a channel on YouTube initially, and discovered that thousands of people were accessing the videos. This quickly grew to millions of views around the world, leading to positive comments from thousands of pupils, many of whom achieved A and A* grades thanks to my video content, without ever having met them in person. I then teamed up with other excellent, passionate teachers, like Jonathan Hicks, a maths specialist, to bring other subjects to students."
Leon, who was one of the first headteachers in the UK to guide a Community Based Free School to an outstanding Ofsted review, believes TuitionKit will also benefit teachers, adding:
"TuitionKit is a valuable resource for busy teachers who just do not have the time to provide additional help outside of lessons, and want to guide pupils to a trusted learning resource. Teaching staff can also dip into our resources when preparing for a lesson or looking to refresh their knowledge of a particular subject area."
A one-off subscription fee of £29 for all core GCSE subjects (English, Maths and Science), approximately equivalent to the cost of an hour's private teacher tuition, grants full access to the E-learning facility for a year.
Leon has also established learning rooms in Egypt and Brazil and hopes to establish more in the future.
For more on TuitionKit, visit http://tuitionkit.com/