Blockchain, data storage, artificial intelligence, patient information and self-service healthcare technology attract motivated buyers

Private equity acquisitions on the rise as financial buyers keen to get a foot in the door

Medical marijuana a growing sub-sector now commercialised and marketed in US
London, UK – 13 February 2019. The latest Healthtech M&A Market Report from international technology mergers and acquisitions advisor, Hampleton Partners, revealed a final count of almost 100 deals in the healthtech sector in the second half of 2018.
Transaction volume remained steady compared to 1H2018, inching down by a mere six per cent and thus remaining in line with a remarkably stable trend since 2013. The trailing 30-month revenue multiple rose again to 2.8x EV/S, prolonging a trend visible over the last 18 months, since the increase to 2.8x in 2H2017 from a lower 2.1x EV/S in 1H2017.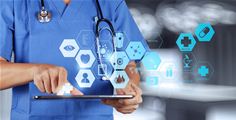 Healthtech iPad
In 2018, 186 healthcare companies went public, bringing aggregate gross IPO proceeds for the year to $24 billion, up from only $15 billion in 2017.
Largest healthtech transactions
The largest disclosed deals in the second half of 2018 included Veritas Capital and Evergreen Coast Capital's joint private equity acquisition of athenahealth for $5.7 billion, at an attractive 17.3x EV/EBITDA. Athenahealth provides electronic healthcare record management SaaS for hospitals and healthcare practices in the U.S.
Second, at $1 billion, came the acquisition of M*Modal by 3M. M*Modal provides clinical documentation, transcription and EHR SaaS for the medical sector.
Dutch tech and health giant Philips remains the sector's most consistently active acquirer, with a total of seven acquisitions over the past 30 months, including Blue Willow Systems and its tracking and alert-based systems for senior living facilities.
Jonathan Simnett, director and healthtech specialist at Hampleton Partners, said:
"The rise of lifestyle diseases, an ageing population and higher patient expectations are compelling both public and private healthcare systems to incorporate technology to improve productivity, cost-efficiency and patient satisfaction."
Medical marijuana
M&A activity is now featuring in the medical marijuana sector, following regulatory changes in 10 U.S. states and Washington D.C. In November, cannabis network marketing website Leafbuyer Technologies Inc acquired Greenlight Technologies, a cannabis ordering and rewards mobile application. The app includes features such as loyalty programmes and real-time customer data analytics. It enables consumers to pre-order cannabis products and collect the orders at their local store. Such acquisitions are likely to become more frequent across the US as regulations continue to evolve.
Key trends in healthtech
Established technology companies such as Amazon, Samsung and Cisco are looking for synergies and ways to enter the healthtech sector.
Key examples of this trend include Amazon's acquisition of online pharmacy service PillPack for $1 billion earlier in 2018, and Samsung's current collaboration with Stanford University and start-up Syncthink to study the use of VR in establishing concussion severity. In addition, Cisco is working with GE Healthcare and Philips to provide the network support for device connection, security and data integration in healthcare.
Self-service tech, such as health-monitoring software, drug-tracking apps or remote consultation interfaces, is generating interest amongst strategic and financial acquirers.
All eyes are on data, especially as blockchain continues to disrupt the market with new ways of storing, securing and managing medical data
The move to the cloud continues, with SaaS healthtech companies driving innovation for public and private health practices
Healthtech in 2019
Jonathan Simnett concluded:
"The M&A landscape in healthtech remains promising. Big tech companies are entering the healthcare sector and healthcare professionals are keen to adopt technology that makes everything from transcribing patient notes, to diagnosis and treatment more effective and cost-efficient. New markets are being created by millions of consumers now monitoring their own health via apps and online programmes at home and on-the-go and by medical marijuana deregulation.
"Patient-oriented self-service healthtech billing and payment management, SaaS, EHR patient data and medical records systems will remain in particularly high demand by buyers, along with emerging blockchain applications which can improve the security and traceability of patient data, pharmaceuticals and surgical equipment."
ENDS
Media enquiries, photography or interview requests, please contact:
Jane Henry
Email: jane@marylebonemarketing.com
Mob: +44 789 666 8155
Note to Editors:
Hampleton Partners' Healthtech Market Report 1H 2019 is compiled using data and information from the 451 Research database (www.451research.com).
About Hampleton Partners
Hampleton Partners is at the forefront of international mergers and acquisitions and corporate finance advisory for companies with technology at their core. Hampleton's experienced deal makers have built, bought and sold over 100 fast-growing tech businesses and provide hands-on expertise and unrivalled advice to tech entrepreneurs and companies which are looking to accelerate growth and maximise value.
With offices in London, Frankfurt and San Francisco, Hampleton offers a global perspective with sector expertise in: Automotive Technology, IoT, AI, FinTech, Hi-Tech Industrials & Industry 4.0, Cybersecurity, VR/AR, HealthTech, Digital Marketing, Enterprise Software, SaaS & Cloud, eCommerce.
Follow Hampleton on LinkedIn and Twitter.
For more information visit https://www.hampletonpartners.com/