Sector sees highest median multiples on record and $8.3 billion in disclosed transaction value
M&A and PE investment focusing on disease prevention, patient experience and precision healthcare management software

Healthtech fundraising space maturing, with 38 VC-backed digital health unicorns worldwide
London, UK – 4 September 2019 - The first half of 2019 recorded an increase in healthtech M&A activity, with a healthy 100 deals inked (11 per cent more than in 2H 2018) and around $8.3 billion in disclosed transaction value throughout the period, reveals Hampleton Partners in its latest global Healthtech M&A Market Report.
Trailing 30-month median valuation multiples reached the highest levels in years, with EV/EBITDA climbing to 17.7x after the low of 13.7x in 2H 2018, and EV/S reaching 3.4x – a new record for healthtech.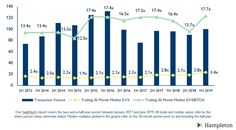 Healthtech deal volumes and values 2013-2019
Jonathan Simnett, director and healthtech specialist, Hampleton Partners, said: "M&A activity in the healthtech sector underlines a pressing imperative: to deliver better healthcare, cheaper, against the backdrop of an ageing population, data protection and the pressures of cost-efficiency. As a result, many acquisitions have targeted companies focused on preventative medicine software and technology which can help detect anomalies early and avoid later-stage, costly emergency treatments; and software aiding efficient personnel, equipment and facilities allocation and accurate payment processing."
Financial buyers constitute over a third of all acquisitions
In 1H 2019, 38 per cent of acquisitions were made by financial buyers – a proportion consistent with the share seen in previous reporting periods, which have swayed between 29 and 42 per cent.
Several of these financial buyers made acquisitions with a preference for medical records and healthcare data management software; clinical management and analysis SaaS; and online health services.
This is best illustrated by the four acquisitions carried out by West Coast- and UK-based Francisco Partners and its portfolio companies, as it targeted Qualcomm's medical data networking systems; Bernoulli Health's clinical surveillance software; and SRS Health Software's medical records software.
Healthtech fundraising continues to break records
The healthtech sector saw a record number of fundraises and value raised in 1H 2019.[1] The amount invested in healthcare companies globally reached $26.9 billion, compared to $26.5 billion in 1H 2018. Deal count also increased to 2,258, compared to 2,223 in 1H 2018.
2019 is set to reach the highest deal count on record, with more than 4,500 fundraises projected to occur by the end of the year, compared to 4,395 in 2018.
Meanwhile, there are currently 38 VC-backed digital health unicorns worldwide, worth a combined total of $90.7 billion. The cohort's total valuation in 2019 continues to grow as a result of continued mega-rounds to existing unicorns such as Tempus, which completed a $200 million Series F round, and Doctolib, which raised $165 million in a Series E round led by growth equity firm General Atlantic.
Key trends in healthtech
Tracking, monitoring and patient engagement solutions are attracting attention, as preventative medicine is prioritised to avoid costly later-stage interventions
Practice management, clinical analytics and billing software still popular, particularly in North America
Private equity and financial buyers continue to invest and acquire
Patient satisfaction closely monitored through qualitative and quantitative surveys, as the long-term patient relationship takes centre stage
Credential-checking and reference software and databases increasingly popular
The future of healthtech M&A
Jonathan Simnett concluded: "We expect healthtech to remain a strong sector with continued M&A activity in the near future, as financial and strategic buyers invest and acquire in order to enter the healthtech space, expand their own product range or simply to seize the opportunity of innovative healthtech solutions which are likely to appeal to a wide range of healthcare systems and providers."
[1] According to research by CB Insights
ENDS
Media enquiries, photography or interview requests, please contact:
Jane Henry
Email: jane@marylebonemarketing.com
Mob: +44 789 666 8155
marylebonemarketing.com
Note to Editors:
Hampleton Partners' Healthtech Market Report 2H 2019 is compiled using data and information from the 451 Research database (www.451research.com) and from CapitalIQ, a product of S&P Global.
Download the full Hampleton Partners' Healthtech M&A Market Report: https://www.hampletonpartners.com/reports/healthtech-report/
About Hampleton Partners
Hampleton Partners is at the forefront of international mergers and acquisitions and corporate finance advisory for companies with technology at their core. Hampleton's experienced deal makers have built, bought and sold over 100 fast-growing tech businesses and provide hands-on expertise and unrivalled advice to tech entrepreneurs and companies which are looking to accelerate growth and maximise value.
With offices in London, Frankfurt and San Francisco, Hampleton offers a global perspective with sector expertise in: Automotive Technology, IoT, AI, Fintech, Hi-Tech Industrials & Industry 4.0, Cybersecurity, VR/AR, Healthtech, Digital Marketing, Enterprise Software, SaaS & Cloud and E-commerce.
Follow Hampleton on LinkedIn and Twitter.
For more information visit https://www.hampletonpartners.com