30th September 2014: Olive has won a contract to supply Hewden Stuart Ltd, the UK's leading plant and equipment rental company, with a new managed mobility service for 1,000 users. The service has been tailored to support Hewden's complex voice and data requirements, with users gaining connectivity via the Vodafone network.
Olive has also developed a commercially compelling and agile framework agreement, of which there are two key aspects. Firstly, Hewden will have access to a Technology Fund, which they can use for hardware upgrades during the life of the agreement, or to reduce operational expenditure for usage.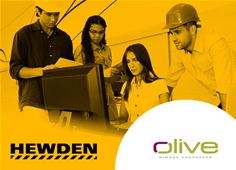 Hewden Stuart and Olive
Secondly, Hewden will gain from a Transformation Fund, a pre-agreed sum provided for investment in new or innovative technologies (outside of the core mobile contract), to help their business stay ahead in their market.
Hewden will have a dedicated Olive account and support team, and benefit from Olive's deep experience of specialist mobility management.
Olive is one of the UK's fastest growing business communications providers and recently appeared for the 2nd time in the Sunday Times Hiscox Tech Track 100, moving up a significant 42 places to chart at number 49 in September 2014.
Martin Flick, CEO, Olive Communications, said: "We're delighted that Hewden has chosen to move away from a direct carrier relationship for their mobile estate, and instead decide to work with a managed service provider like Olive. We believe that most mid and upper-mid market UK firms can gain from better customer service and more commercially innovative agreements if they follow a similar model. We look forward to helping Hewden use technology and telecoms to differentiate and enhance their business in their sector."
Further information
For more information, or an interview with Martin Flick, CEO of Olive, please contact Xenia Kingsley or Cal Young at Man Bites Dog.
T: 0844 561 1416
E: teamolive@manbitesdog.com
Notes to Editors
Olive is the UK's fastest growing business communications provider and consultancy, operating across the four cornerstones of IT infrastructure: voice, data, mobility, and applications.
One of the Sunday Times' Hiscox Tech Track 100, Olive provides innovative and integrated communications solutions for the UK's best-known businesses including BPP, Cath Kidston, Mace and National Geographic.