This week at the UK Industry Footwear Awards, long established and reputable footwear company Hi-Tec scooped the prestigious award for outdoor footwear brand of the year.
The Footwear Industry Awards seeks to recognise those in the industry who display innovation and forward thinking, alongside traditional sales and business acumen. With this in mind Hi-Tec are very proud to receive this industry award, which recognises the mark the brand has made on the outdoor footwear sector.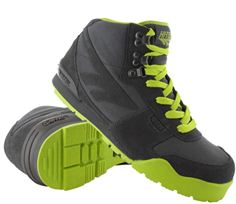 Sierra Lite Hero
Ian Cameron, UK Managing Director at Hi-Tec, commented on the award win:
"On behalf of everyone at Hi-Tec I would like to thank all our supporters for voting for us. We are all extremely proud to be awarded such a fantastic accolade and will continue to push boundaries in the Outdoor Footwear Industry to ensure we are making the best footwear for our consumers!"
The awards are organised by Datateam Business Media for the industry, with the support of BFA, IFRA, Society of Shoe Fitters and Footwear Today, and kick off the first night of the Moda Footwear Show.
Frank Van Wezel, originally from Holland and settled in Essex, started to build the Hi-Tec brand in 1974. Frank's love of squash and tennis directed him into the sports shoe industry where he was involved in the induction of the first specialist Squash shoe. This then led to the creation of Hi-Tec Sports PLC and now nearly 40 years on the brand enjoys worldwide recognition as a leader in sports and outdoor footwear with international distribution in over 80 countries including Canada, the USA, Spain, South Africa, France and the UK.
For further information on the new collections, expertise and brand history visit www.hi-tec.com/uk
-ENDS-
Notes to editors:
For more information or images, please contact:
Sophie Coley on 01273 760969 or sophie@propellernet.co.uk
Simone Stevens on 01273 760967 or simone@propellernet.co.uk