Guildford, UK – 20 July 2017: Highlight has enhanced its Applications, Network and Unified Communications (UC) performance management service to deliver visibility and transparency of Skype for Business behaviour across an ICT estate.
Highlight presents a graphical management view of Skype for Business and the supporting infrastructure for shared use by Managed Service Providers (MSPs) and their enterprise customers. Technical and non-technical teams can now access accurate and impartial evidence via a 'single pane of glass' portal to view and control end-users' Skype experience.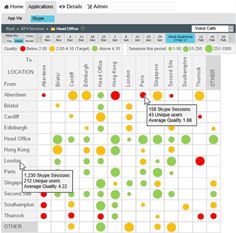 Highlight's Skype screen
Skype call volumes and quality of calls are captured between pairs of locations for any specified day, week or month. Providers and their enterprise customers can visualise Skype behaviour across an ICT estate through a 'grid-style' presentation. Any problems with the application's performance in relation to the network infrastructure can be identified in real-time and can thereby lead to shorter resolution times.
Antony Bream, Managing Director of Highlight says, "Our service is unique amongst UC monitoring solutions in that it focuses on a business level presentation of the analytics data. Managed service providers can ensure their customers have full confidence that a Skype solution is right-sized, from a capacity and call quality point of view, that it is being used effectively across an organisation and that when people use Skype, they get their work done without hindrance."
He continues, "Most importantly, the shared view allows corporate directors to independently verify that they are getting value for money and return on their UC and Skype investments. The improved visibility also enables managers to identify and encourage reluctant users to adopt UC."
For Service Providers, Highlight offers a scalable, software-as-a-service solution that reduces the number of monitoring tools required to manage a UC installation.
Antony adds, "With full disclosure of information to all parties regarding call quality and quality of experience, discussions between the service provider and their customers can be more open and honest about bandwidth provision and line quality, since they are using factual, shared data, thereby building a more trusting relationship."
By hovering over either a grid element, or a location name, users can see volumes of activity and overall quality metrics. The user can choose to include Voice sessions, Voice + Video (for video calls), Application Sharing sessions, or everything.
Ends
About Highlight www.highlight.net
Since the year 2000, Highlight has enabled Service Providers and Enterprise Corporates to see clearly both network and applications performance in real-time. As well as delivering visibility and analytics, Highlight enables service providers and enterprise customers to both have visibility of the same accurate, easy to use graphical information. This critical data supports the right conversations concerning issue resolution, planning and capacity management. Highlight supports and enhances ICT expansion, new technology deployment and cloud transition initiatives, where both providers and corporates are confident in the partnership.
Highlight is software as a service, delivering powerful value to the business performance of service providers and enterprise corporates around the world. Highlight is fast and easy to deploy. Highlight's simple pricing structures and zero CAPEX makes it a business enabler which is budget sensitive. Highlight guarantees providers and corporates better business results in network and applications service management, operations and customer experience.
The Highlight service is used in 90 countries, on 6,000 enterprise networks including 40% of the FTSE-100. Highlight, providing the best provider and corporate customer value and experience at a competitive price.
Watch our video to learn more about Highlight.
For further information or images, please contact:
Fiona Cousins, OSMO PR, fiona@osmo.co.uk T: 0044 (0)1252 850182