Reading UK. July 12, 2017 – IGEL, a world leader in the delivery of powerful unified endpoint management (UEM) software, thin clients, zero clients and all-in-one solutions, today announced that the Hillcrest Group of Companies, a social housing, care, skills, training and employment organisation, is updating its desktop infrastructure to provide an easy to manage, affordable, reliable and multimedia-ready solution for 800 staff across its 50 sites in Scotland.
The project will see the replacement of existing Axel thin client devices as they become end-of-life with new IGEL IZ series zero clients. These connect to a centralised Citrix server and desktop environment which underpins the whole organisation. The project is already over 70% complete with over 200 Intel Atom-powered IGEL terminals now installed.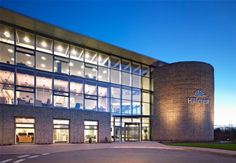 Hillcrest HQ
Established in 1967, Hillcrest Housing Association is one of Scotland's largest providers of social housing with over 6000 quality properties in Dundee, Edinburgh, Angus, Perthshire and Fife. It is the parent company of four trading subsidiaries which make up the group - Gowrie Care, Hillcrest Enterprises, Hillcrest Maintenance Services and Northern Housing Company. With its headquarters in Dundee, the group exists to enhance the quality of life of individuals and communities by providing a range of services and initiatives that improve housing, support and care, employment and training opportunities.
Hosted at its own datacentre, The Hillcrest Group has created a so-called Citrix farm based on a XenServer virtual server platform along with Citrix XenApp for VDI[1]. Ewan Sutherland, Hillcrest Group's IT operations engineer, explains, "Staff connect and are presented with a customised desktop tailored to their group membership. Housing staff are presented with a branded desktop with applications specific to housing. Care staff are presented with a different desktop and range of available applications. And so on."
The advantage of this approach is that, rather than applications having to be installed for staff on individual devices, they are delivered based on the user's Active Directory group membership. Everything can then be managed easily and centrally – a massive boon for the IT team – given the group is diverse with staff on multiple locations. Sutherland says, "The IGEL terminals are powerful devices although we have them fairly well locked down so they currently act solely as Citrix clients for staff connecting to their work specific desktop"
Functionality built-in to support multimedia over a distributed network
Supplied by IGEL reseller, Softcat, The Hillcrest Group's choice of IGEL IZ series zero clients was driven not only based on price, reliability and low power consumption, but the ability to support multimedia as well as dual screens without a specialist adaptor having to be purchased. Dual screens are a key requirement for certain job functions within the organisation who need access to various applications at the same time without chopping and changing systems.
IGEL IZ series zero clients support multimedia applications effectively over a distributed MPLS network which connects Hillcrest Group's 50 sites. This is key as The Hillcrest Group runs a lot of online training sessions for its disperse workforce having developed an Intranet called E-den which contains video, Microsoft PowerPoint and other documentation.
Sutherland explains, "It saves staff having to come from all over Scotland to Dundee HQ for training purposes, some of which is compulsory. They can now complete it online and courses are automatically ticked off once completed"
In addition, IGEL IZ zero clients also enable stuff to plug in external storage devices like USB flash drives and mobile phones so that files and folders can be copied easily.
Easy management of the desktop estate made easy by IGEL's UMS
Over and above product features, it is IGEL's Universal Management Suite (UMS) which has really impressed. Sutherland says, "If you put the time and effort to learn the UMS, it's an excellent tool and makes life really easy. The beauty is you can make configuration changes which can be rolled out to all devices in minutes not hours. For example, a firmware update can be carried out remotely or a scheduled task can be set up to automatically update the firmware on devices out of office hours."
The IGEL UMS also directly helps operational staff. Sutherland explains, "If some-one is visually impaired, we can change their local screen resolution from HQ so it's easier for them to work and reset it once they have finished using the device. In addition, we can resolve 80-90% of day-to-day questions and issues remotely with the shadowing function. That's a huge time benefit for the IT team and everyone in the business."
Ainsley Brooks, IGEL's UK & Ireland country manager, says, "Once you have the UMS set up and IGEL devices plugged in, powered up and connected to a network, the day-to-day management of them is really minimal. That's the beauty of a centralized desktop strategy and one which the Hillcrest project shows very clearly."
[1] Virtual Desktop Infrastructure
- ENDS -
IGEL on Social Media
Twitter: www.twitter.com/IGEL_Technology
Facebook: www.facebook.com/igel.technology
Google+: https://plus.google.com/u/0/101270758605662221044
LinkedIn: www.linkedin.com/company/igel-technology
YouTube: www.youtube.com/user/IGELTechnologyTV
About IGEL
IGEL delivers powerful unified endpoint management software that is revolutionary in its simplicity and purpose-built for the enterprise. The company's world-leading software products include the IGEL OS™, Universal Desktop Converter™ (UDC), IGEL Cloud Gateway™ (ICG), IGEL UD Pocket™ (UDP) and Universal Management Suite™ (UMS). These solutions enable a more secure, manageable and cost-effective endpoint management platform across nearly any x86 device. Additionally, IGEL's German engineered and manufactured thin, zero and all-in-one client solutions deliver the industry's best warranty (5 years), support (3 years after end of life) and management functionality. IGEL enables enterprises to precisely control all devices running IGEL OS as well as Windows OS from a single dashboard interface. IGEL has offices worldwide and is represented by partners in over 50 countries.

For more information on IGEL, visit www.igel.com. To experience the capabilities of the IGEL's OS, UDC and UMS, download here or request free evaluation hardware.
Media Contacts:
Paul Smith
Tel: +44 (0)7770 828525
Email: paul@ambergroup.net
Tom Herbst
Tel: +44 (0)7768 145571
Email: tom@ambergroup.net