London, 09 April, 2015 - GBGroup, the global leader in identity intelligence, has today announced its collaboration with Holvi, the Finnish company redefining European banking, with the aim to verify and understand its customers to help grow their businesses.
Holvi, an online one-stop-shop banking service for entrepreneurs, combines current accounts with tools to provide a full, digital banking experience for SMEs and sole traders. The company allows customers to easily manage projects and the back office in an embedded online platform. Fully regulated and operational in 30 countries, Holvi serves some 20 million entrepreneurs, freelancers, project workers and sole traders who up to now have struggled with banking services that don't suit their needs.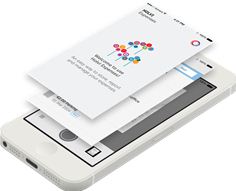 Holvi mobile screenshot
"Current banking systems aren't designed for sole traders; and it can take months for them to open an account, in which time they may have lost out on precious revenue or securing new business. Holvi sets out to take the administrative pain away for small companies - providing easy to use, efficient and synchronised banking services," said Luis Calleja Rodriguez, Chief Compliance Officer at Holvi.
"GBGroup helps us provide a real banking experience for SMEs and sole-traders," continued Rodriguez. "Working with GBGroup allows our clients to open an account in under a minute, and they don't need to provide data or paper-documents; taking out the stress of the traditional banking system. The speed makes onboarding new customers incredibly easy, allowing both us, and our customers, to focus on business growth."
Holvi, which is Finnish for 'vault', gives customers the security of a bank with the tools of the modern, digital world to streamline their financial and accounting processes; saving them time, eliminating banking stress and allowing them to focus on their most important objective - winning new businesses and increasing income. In fact, Holvi's customers save 5-7 hours on average each month as a result of using the service.
"We're dedicated to expanding our business across Europe in an organic manner. We want to truly understand and get to the very heart of every single one of our customers," continued Rodriguez. "GBGroup's insight allows us to understand each of our clients personally, meaning we can ensure we're providing them with the exact services they need."
GBGroup started working with Holvi nine months ago to verify the documents of their new customers to prove they are valid and fully compliant on a pan-European level. GBGroup has allowed Holvi to check, verify and authenticate customers across the UK, Austria, Germany, Ireland, Italy, Sweden and Denmark; making their European expansion smoother, more efficient and scalable than using legacy systems.
Glenn Porter, General Manager International Identity Verification, GBGroup comments, "We're incredibly proud to be partnered with Holvi, they're a truly exciting company that's challenging an entire industry. Their disruptive approach is empowering small businesses across Europe and giving them the tools they need to really make an impact. Our identity intelligence solutions are helping companies exploit their digital resources and expand at a faster rate than previously possible. Also, our Matchcode and DecTech solutions provide international data capture, validation and real-time credit checking whilst detecting and preventing transactional fraud. In this sense our partnership feels like the perfect marriage."
About Holvi
Holvi, founded in Helsinki in 2011, is a banking service designed for the connected age. Holvi is for the self-employed, micro-businesses and SME's of Europe. The core of Holvi's service is the current account - built for managing a business. The accounts are easy to open and use. They have basic SME tools built in including online shop, an invoicing tool and financial reporting features. Holvi has independently built an end-to-end online banking platform from the ground up. A financial service that does not operate on the legacy backend or balance sheet of any existing bank. Holvi is introducing intuitive design, usability and beauty to banking.

Holvi is a licensed payment institution authorised by the Financial Supervisory Authority (FSA) of Finland for operations across the EU under the Payment Service Directive. www.holvi.com
About GBGroup (GBG)
The most profitable and successful organisations recognise the value of understanding the individual identity of their customers and employees. GBG combines this concept of identity with technology to create an environment of trust, so that organisations can employ people and connect, communicate and transact with consumers, safely and responsibly.
We call this Identity Intelligence.