Human Recognition Systems, the UK's leading independent identity management and biometric specialists, are delighted to be partnering Thales to deliver the INSTINCT-Technology Demonstrator 2 (TD2) Airport Security Programme.
The INSTINCT-TD2 project is a government initiative to discover, trial and showcase emergent airport security technologies, solutions and ideas. Security Minister Baroness Pauline Neville-Jones says: "The threat to our security is real and is evolving, and technology can play a key role in reducing that threat. This project shows how the Government is working with industry to find those innovative and emerging technologies."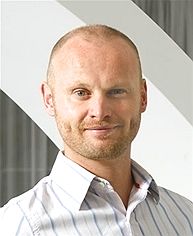 Neil Norman, CEO, Human Recognition Systems
Human Recognition Systems will be actively involved in the delivery of the TD2 programme with Airport Security Expert and head of Transport at Human Recognition Systems, Jim Slevin, taking a position on the 'Independent Review Board'. The Board will consist of representatives from Thales, academia, the participating airports and a cross-government team anchored within the Office for Security and Counter-Terrorism (OSCT) in the Home Office.
Companies and academic institutions are being invited to submit applications (closing date of 10th September 2010) that outline how their technology can be used in airports to improve security. The 'Independent Review Board' will be responsible for processing all submissions received and selecting a number to demonstrate and trial their technology in simulated and live environments within the next few months.
Human Recognition Systems will play a key role in facilitating the live trials in airports. With vast experience designing and implementing technology solutions in airports, Human Recognition Systems was chosen by Thales to help the selected demonstrators to navigate the operationally complex airport environment.
Neil Norman, CEO of Human Recognition Systems, comments, "We have been actively developing security solutions within the Airport sector for the last seven years. Our solutions use the latest in biometric, identity management and image processing technology, and have been developed in close consultation with our clients and the airport regulatory authorities. We are pleased to be involved in helping Thales deliver the TD2 Programme; our experience and knowledge of the airport sector and commitment to cutting edge technologies will ensure we provide valuable contribution to the programme and the demonstrators involved."
Alex Dorrian, CEO of Thales UK, says: Security solutions into the National Security & Resilience sector are one of Thales's core capabilities and an area where we have considerable pedigree. Our market knowledge, understanding of integrating complex systems and products, and experience with working with universities, schools and SMEs will ensure we deliver a rigorous trial and demonstration programme, successfully guiding demonstrators through every step of the process.
ENDS
For Further information contact:
Cheryle Wilkinson
Communications Manager at Human Recognition Systems
+44 (0)1521 254 6973
+44 (0)7827 894238
Cheryle.wilkinson@hrsltd.com
ABOUT INSTINCT:
The INSTINCT (Innovative Science and Technology IN Counter-Terrorism) Programme is the overarching government initiative, led by a cross-government team anchored within the Office for Security and Counter-Terrorism (OSCT) in the Home Office.)
About TD2 Airport Security:
The TD2 Airport Security project begins with an awareness and outreach programme, leading to a selection process to ensure sufficient applicability and maturity of proposed technologies, solutions or ideas. It is anticipated that between 20 and 30 submissions will be taken to trial, and that these, along with up to 20 other non-trialled submissions of particular interest will be showcased to Government, aviation industry and security experts early in December. A final report, including detailed analysis of the trials results and potential exploitation/ implementation of successful products will be submitted to the UK Governments INSTINCT programme at the end of January 2011. For more information contact: http://www.intellectuk.org/content/view/6127/719/
Due to the high levels of interest that we have received in relation to submissions for the INSTINCT TD2 event we have extended the deadline for submissions to the 10th of September.
The decision to extend this deadline is due to the level of interest for submissions, which has surpassed our expectations both in volume and quality, and to ensure that we are giving everyone with interest sufficient time to complete the process.
If you have any enquiries or questions in relation to submissions please email us on INSTINCT-TD2@thalesgroup.com.
About Human Recognition Systems:
Human Recognition Systems (HRS) is widely acknowledged as one of the UK's leading industry experts in identity management technology, providing business solutions that focus on biometric and video analytic technology for the purpose of providing secure identity assurance.
The company has been actively involved in designing and developing Airport solutions for the last seven years; introducing the UK's first mandatory biometric staff access scheme at Manchester Airport; The development of the first automated anti-backtrack solution approved by the Department for Transport (DfT) and the delivery of a number of on-going new product solution trials with the largest UK airports.
Human Recognition Systems operates in the core markets of Construction, Transport and National Security world-wide as has a strong track record of successfully designing, developing and deploying business solutions to a number of FTSE 100 clients and Government agencies.
About Thales:
Thales UK is a natural fit for the TD2 project, having led similar projects in the past. In August 2008 Thales UK received the Ministry of Defences Grand Challenge 2008 award for the most imaginative use of national talent on behalf of The Thales Team. The team, composed of Thales UK, the University of Reading, the University of Bristol, Ryland Research, Carvec and STEMNET (Science, Technology, Engineering & Mathematics Network), was given this award for making the best use of talent, innovation and imagination across industry, academia and education. For the past three years, Thales and Scottish Enterprise have successfully run the annual Scottish Technology Prize to help promote and develop technological excellence within Scottish academic institutions About Thales and Thales UK Thales is a global technology leader for the Defence & Security and the Aerospace & Transport markets. In 2009 the company generated revenues of 11.5 billion (12.9 billion), with 68,000 employees in 50 countries. With its 22,500 engineers and researchers Thales has a unique capability to design, develop and deploy equipment, systems and services that meet the most complex security requirements. Thales has an exceptional international footprint, with operations around the world working with customers as local partners