The Hyde Group, one of London's leading social housing providers, has chosen the enterprise mobile workforce software solution from 1st Touch (www.1sttouch.com) to help deliver mobile working solutions to staff. This forms part of a wider investment by Hyde in IT as part of its commitment to drive up customer satisfaction and continue to improve business efficiency.
The new technology will be used initially by the Group's Incomes Officers and then rolled out to other staff such as Surveyors and Housing Officers. The new mobile solution will deliver all the information and forms required by an operative straight to their mobile device. This can include dates and times of customer appointments, payment information, stock data, services available to customers and the forms required to access them online. In essence they will have everything they need to do their job at their finger tips, whilst out on site with customers.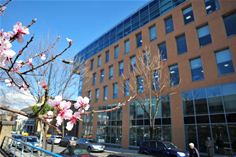 Hyde Group Head Office
Mobile technology is one area where Hyde sees an opportunity to boost both efficiency and customer satisfaction further. Hyde's decision to introduce a professional mobile software solution led to a formal procurement process, as a result of which Hyde entered into a contract with 1st Touch mobile workforce software. 1st Touch software is already being used successfully with many other social housing organisations.
Paul Singleton Director of Business Transition & Support at The Hyde Group said: "We took steps to ensure that we properly understood the requirements for a mobile system across the business. We identified what we needed to achieve and what benefits we could expect. As a result of the process we chose 1st Touch, as we are confident in their ability to integrate with our existing systems as well as their experience working successfully with other similar organisations."
Once deployed the new system will deliver a number of significant benefits. Paul Singleton adds, "One important feature is the system's ability to work with or without a signal so our employees do not have to interrupt their work if in an area of poor signal. There will also be significant efficiency savings from having the details of customer visits sent directly to our employees' devices at the beginning of each day, reducing travel times. In addition, staff would previously have to wait until they went home or back to the office to input notes from customer visits. With 1st Touch they will be able to update Hyde's systems in real time using their device whilst still with the customer."
Robert Dent, CEO of 1st Touch welcomed the news and believes that The Hyde Group is setting the standard for others to follow. In his view, "From working closely with Hyde we have seen the commitment Hyde makes to leverage improved ways of working with new technology and this has impressed us greatly. We have also noted the positive customer satisfaction ratings they aim to achieve and how they plan to deliver both efficiency savings and tangible service improvement. We are delighted that Hyde has chosen 1st Touch to deliver mobile workforce technology as part of this strategy and look forward to working closely with them on other areas where mobile might deliver similar benefits."
Ends
Editors Notes
About The Hyde Group www.hyde-housing.co.uk
Provider of the Year – National Housing Awards 2013
The Hyde Group is an award winning provider of homes and makes a significant contribution to meeting housing needs and improving people's quality of life.
Hyde is one of the largest housing associations working in England, owning or managing circa 50,000 homes in London, Kent, Surrey, Sussex, Hampshire, the East of England and East Midlands.
Our social investment team, Hyde Plus, continues to make a lasting difference. Over the past year 811 people received employment advice and 60 benefitted from work placements. 673 residents were helped into training and 211 into work.
Hyde is a member of G15 – Housing 1 in 10 Londoners.
About 1st Touch (www.1sttouch.com)
Southampton based 1st Touch, a subsidiary of Aareon AG (www.aareon.com), has enabled dozens of field workforce-based organisations to embrace new mobile technologies and so achieve significant savings, greater productivity and more cost-effective use of resources. 1st Touch Mobile delivers clear and unique benefits: These include the system's acclaimed 'Smart Airtime' feature where 'airtime' is minimised and the system is always available with or without 'airtime'. The system's flexibility through simple customer control over forms creation and amendment is also widely acclaimed. There is Integration to multiple back office and other enterprise software applications, so that data is entered only once.
With its widely acclaimed mobile technology, 1st Touch has a clear focus on the Social Housing and Local Government markets. Many social housing providers and local authorities, at large, now benefit from the fast and tangible, best of breed benefits that 1st Touch mobile technology delivers to the enterprise.
To date, over 50% of the social housing market, which has deployed mobile technology, has chosen to implement 1st Touch. In local government, 1st Touch has already been adopted for a wide range of mobile workforce uses. Ready to use applications for local authority organisations include: Public Buildings, Highways/Street Services, Environmental/Waste Management, Revenues and Benefits, together with Planning Control and Trading Standards.
1st Touch software is available on a wide variety of platforms including: Windows Mobile, Apple and Android.
For further information on the Hyde Group please contact:
Emma Tedman
emma.tedman@hyde-housing.co.uk
www.hyde-housing.co.uk
For further information on 1st Touch please contact:
Sally Cops
1st Touch
02380 111206
sally.cops@1sttouch.com
www.1sttouch.com
or
Leigh Richards
The Right Image PR & Marketing Group
07758 372527
leigh.richards@therightimage.co.uk
www.therightimage.co.uk