New whitepaper sponsored by OKI Europe says latest multifunctional devices extend the remit of printers from paper-based processes to a 'customisable digital transformation tool'
Egham, 8 March 2016 – Smart multifunction printers (MFPs) are helping to 'redefine how workflow is performed' a new IDC whitepaper has confirmed.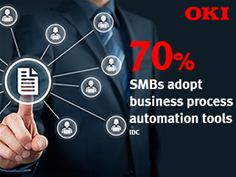 Smart SMBs
Entitled 'Are your business processes stifling your market opportunity? Cost-efficient print and document management through smart MFPs', it was written by Jacqui Hendriks, IDC's Head of European Managed Print Services and Document Solutions research and consulting practice.
Highlighting the need for workflow improvements, IDC's research found 67% of small to medium-sized businesses in Europe are making productivity a priority. However, while cloud services are giving businesses affordable access to sophisticated technology, just one in three businesses are planning how they will accommodate and manage information growth in an increasingly digital world.
The whitepaper also identified that legacy document-related challenges are wasting time and causing a huge 20% loss in employee productivity – the equivalent to over 2 working months a year. Similarly, despite the fact that emerging technologies including mobility, big data, social business and cloud raise security concerns, three-quarters of SMBs were found to have no security system in place, leaving them exposed to risk.
In addition to raising these challenges, the IDC whitepaper outlined the functionality now available in the latest smart MFPs that help to improve workflow and productivity by facilitating smarter business operations and process efficiencies for SMBs. It states: "Acting as on-ramps and off-ramps to the cloud, smart MFPs extend the utilisation of the device from primarily printing and copying paper-based pages to a customisable digital transformation tool, enabling companies to capture, integrate and communicate information."
Looking closely at other factors driving the need for change, such as expanding IT challenges, the whitepaper points to the fact that companies must make crucial decisions about investment and priorities that support growth and competitive performance.
However, rather than turning straight to costly enterprise resource planning (ERP) systems, organisations should first consider making smaller investments in customising workflow tools, which could provide them with sufficient automation and integration to drive up productivity in a shorter timeframe.
According to IDC's research, smart MFPs have the potential to act as a platform for growth by providing cost- and time-efficient workflow solutions that improve compliance and security while supporting key business objectives such as mobility, along with cost-cutting initiatives. In this regard, they have the potential to help redefine how day-to-day business workflow is performed.
This is particularly essential for smaller businesses (SMBs), many of which are seeing growth hindered by internal processes, as well as coming under pressure to manage mobility and optimise their resources. Using smart MFPs, SMBs have the opportunity to alleviate these pressures and achieve substantial workflow benefits.
In addition to workflow strategy, smart MFPs also provide the many businesses without any document security in place, the opportunity to control access to sensitive information with authentication tools and to protect customers' details using permission-based access.
"This comprehensive whitepaper by IDC identifies a number of business challenges and priorities that today's smart MFPs can go a long way to address," says Tetsuya Kuri, vice president Marketing, OKI Europe Ltd. "It also establishes a clear link between the devices and the requirements of modern businesses."
OKI Europe's portfolio of smart MFPs combines a range of features to capture and process information more intelligently, helping employees work more productively. The cost-effective solutions combine sophisticated software, advanced technology and open architecture, enabling them to integrate seamlessly with existing document workflows.
This in-built flexibility responds to the 70% of European SMBs that IDC has found adopt business process automation tools for increased employee productivity and means MFPs can be scaled up in line with future growth, as well as new business and technology trends.
For further information and to receive a copy of the whitepaper and infographic, visit www.okieurope.com/smartmfps
-Ends-
Notes to Editors:
About OKI Europe
OKI Europe Ltd is a division of OKI Data Corporation, a global business-to-business brand dedicated to creating cost-effective, professional in-house printers, applications and services which are designed to increase the efficiency of today's and tomorrow's businesses.
The company is well-established as one of Europe's leading printer brands, in terms of value and units shipped. For over 60 years OKI Europe has been delivering advanced printing solutions worldwide, introducing ground-breaking technologies that support the needs of businesses large and small. Our pioneering development of digital LED printing technology has placed OKI at the forefront of the market in delivering high-definition, eco-friendly printing devices.
In addition to a vast portfolio of award-winning printers and MFPs, OKI Europe offers a range of services to help optimise print and document workflows. This, together with an integrated suite of software technologies and tools, can help businesses take control of their print and document costs in a secure environment, whether office based, mobile or in the cloud.
Today OKI Europe employs approximately 1,000 people in 21 locations (sales offices and production sites) and is represented in 60 countries throughout the EMEA region.
Visit www.okieurope.com for further information.
OKI Data Corporation is a subsidiary of Tokyo-based Oki Electric Industry Co. Ltd., established in 1881 and Japan's first telecommunications manufacturer.
Media Contacts:
OKI Europe Ltd: Pamela Ghosal: Pamela.Ghosal@okieurope.com, +44 (0) 208 2192127
Whiteoaks: Jen Rook: jenniferr@whiteoaks.co.uk +44 (0) 1252 727313