New whitepaper commissioned by OKI Europe says many companies would like to digitise documents to reduce physical storage space
Egham, 12 January 2016 – Just one third of European companies are planning for a digital world with smart MFPs playing a key role in moving away from paper-based processes, a new IDC whitepaper commissioned by OKI Europe Ltd has found.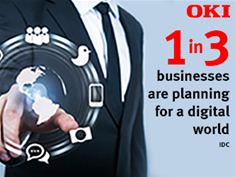 Smart MFP Digital Revolution
At present, most European companies are using a combination of paper-based and digital documents in their day-to-day operations. However, a third of businesses are now planning for a future digital world.
The whitepaper, which was compiled by Jacqui Hendriks, IDC's Head of European Managed Print Services and Document Solutions research and consulting practice, is entitled 'Are your business processes stifling your market opportunity? Cost-efficient print and document management through smart MFPs'.
Previous IDC research cited in the document shows many companies would like to digitise documents to reduce physical storage in premium office or offsite space. Here, one of the key benefits of business process automation is in providing the ability to archive documents in one place. By providing access to scanning functionality, users can digitise information for searchable access and scan direct to a specific destination, eliminating the need for a paper trail and moving towards building a digital footprint.
According to IDC, the key features that a smart MFP can provide to firms laying the groundwork for document digitisation include the ability to scan direct to email, to a specified folder that may be on a network or cloud-based for further utilisation or archival. This meets the needs of the 66% of European companies who say that one of the key benefits of automating business processes is having archived documents in a single location. Various document formats can also be scanned for output in PDF or PDF/A format, the latter meeting the need for longer-term digital archiving.
The IDC whitepaper also found that, at present, document-related processes are contributing to a substantial loss in employee productivity each year. As 'customisable transformation tools', smart MFPs unlock substantial workflow benefits, automating many time-consuming manual tasks and enabling businesses to concentrate on activities which promote growth.
"As a workplace technology, smart MFPs have come a long way in a very short space of time," Tetsuya Kuri, Vice President Marketing EMEA, OKI Europe Ltd. "This is in direct response to market demand for digitisation and streamlined document workflow set out in this latest IDC whitepaper, paving the way for a future of fewer filing cabinets and increased document digitisation."
OKI Europe's portfolio of smart MFPs combine sophisticated software with advanced technology. These in-built tools provide businesses with a range of functionality needed to improve the way that documents are handled, managed and processed through an organisation and support the growing requirement for space and time-saving document digitisation in busy businesses.
For further information and to download the IDC infographic visit www.okieurope.com/smartmfps/digitalrevolution
-Ends-
Notes to Editors:
About OKI Europe
OKI Europe Ltd is a division of OKI Data Corporation, a global business-to-business brand dedicated to creating cost effective, professional in-house printers, applications and services which are designed to increase the efficiency of today's and tomorrow's businesses.
The company is well-established as one of Europe's leading printer brands, in terms of value and units shipped. For over 60 years OKI Europe has been delivering advanced printing solutions worldwide, introducing ground-breaking technologies that support the needs of businesses large and small. Our pioneering development of digital LED printing technology has placed OKI at the forefront of the market in delivering high-definition, eco-friendly printing devices.
In addition to a vast portfolio of award-winning printers and MFPs, OKI Europe offers a range of services to help optimise print and document workflows. This, together with an integrated suite of software technologies and tools, can help businesses take control of their print and document costs in a secure environment, whether office based, mobile or in the cloud.
Today OKI Europe employs approximately 1,000 people in 21 locations (sales offices and production sites) and is represented in 60 countries throughout the EMEA region.
Visit www.okieurope.com for further information.
OKI Data Corporation is a subsidiary of Tokyo-based Oki Electric Industry Co. Ltd., established in 1881 and Japan's first telecommunications manufacturer.
Media Contacts:
OKI Europe Ltd: Pamela Ghosal: Pamela.Ghosal@okieurope.com, + 44 (0) 208 2192127
Whiteoaks: Simon Moss: simonm@whiteoaks.co.uk +44 (0) 1252 727313