Townsend Joins the IGEL Executive Team to Drive Global Adoption of IGEL's Software-Defined Workspace
Reading, UK. October 29, 2018 – IGEL, a world leader in endpoint management software for the secure enterprise, today announced that it has named Simon Townsend Chief Marketing Officer (CMO) for the Europe, Middle East and Africa (EMEA) market. A veteran expert in end user computing (EUC) technologies, Townsend brings more than 20 years of experience in the evolution of endpoint computing technology with a particular emphasis on virtual desktop infrastructure (VDI), desktop-as-a-service (DaaS) implementations, and enhanced endpoint security.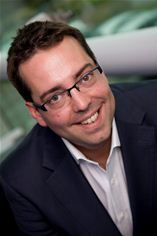 Simon Townsend, IGEL's new Chief Marketing Officer for EMEA
"A visionary on productive and secure end user workspace, Simon is a well-recognized thought leader who has helped the industry drive technology advancements that improve endpoint management and security," said Jed Ayres, President and CEO, IGEL North America. "His deep understanding of working with channel, distribution, system integrator and MSP partners across EMEA, as well as long-standing relationships with Citrix and VMware, will further our 100% channel-centric go-to-market strategy. With his added expertise we will continue to drive double digit growth and global market share, including our No. 1 market position in Germany, while continuing the expansion of the very active IGEL Community."
Townsend joins IGEL from Ivanti where he was Chief Technologist, EMEA and a member of the Office of the CTO. A frequent industry speaker, author and visionary on industry topics related to endpoint security, VDI, Citrix, Windows and DaaS, Townsend played a key role in defining and delivering corporate, field and product marketing strategies.
While at Ivanti, serving as an executive field technologist, Townsend worked directly with customers, partners, field sales, product management and marketing teams to ensure that both customer and software vendor were aligned as those customers looked to adopt the innovative technologies they need to enhance endpoint security and productivity. Townsend came to Ivanti through the company's acquisition of AppSense where he most recently served as Chief Technologist, EMEA, again ensuring that multiple functions within the business were aligned with market changes and customer requirements.
At AppSense for over 11 years, Townsend also previously served as the company's Vice President, Product Management and led the Global Pre-Sales and Systems Engineering teams. He holds a bachelor's degree in IT and business from Bournemouth University.
"Over the past 20 years I've worked to help organizations adopt technology that will transform their end user productivity and experience while simplifying and securing IT operations," said Townsend. "To date, I haven't seen any organization make more of an impact than IGEL has. Simply put, IGEL is truly disrupting EUC with a software-defined workspace that will help solve the desktop security challenge while dramatically enhancing device manageability, lowering computing costs and making the user more productive. I am excited to be able to play an integral role in IGEL's continued growth throughout EMEA."
Townsend joins IGEL effective immediately as a member of the IGEL executive team. He will be a featured speaker during the DISRUPT 2019 End User Computing Forum in Munich, January 23-25, 2019. Follow Simon Townsend on Twitter @Simon_Townsend or on LinkedIn.
To experience the capabilities of the IGEL OS, Universal Desktop Converter (UDC) and IGEL Universal Management Suite (UMS), download here: https://www.igel.com/download?utm_source=wire&utm_medium=press-release&utm_campaign=company-news&utm_term=ums-universal-desktop-converter&utm_content=CRN-ARC-Award, or request free evaluation hardware. To locate an IGEL partner, visit https://www.igel.com/find-a-solution-provider/.
IGEL on Social Media
Twitter: www.twitter.com/IGEL_Technology
Facebook: www.facebook.com/igel.technology
Google+: https://plus.google.com/u/0/101270758605662221044
LinkedIn: www.linkedin.com/company/igel-technology
YouTube: www.youtube.com/user/IGELTechnologyTV
IGEL Community: www.igel.com/community
About IGEL
IGEL delivers powerful unified endpoint management software that is revolutionary in its simplicity and purpose-built for the enterprise. The company's world-leading software products include the IGEL OS™, Universal Desktop Converter™ (UDC), IGEL Cloud Gateway™ (ICG), IGEL UD Pocket™ (UDP) and Universal Management Suite™ (UMS). These solutions enable a more secure, manageable and cost-effective endpoint management platform across nearly any x86 device. Additionally, IGEL's German engineered and manufactured thin, zero and all-in-one client solutions deliver the industry's best warranty (5 years), support (3 years after end of life) and management functionality. IGEL enables enterprises to precisely control all devices running IGEL OS as well as Windows OS from a single dashboard interface. IGEL has offices worldwide and is represented by partners in over 50 countries. For more information on IGEL, visit www.igel.com.
IGEL Media Contact:
Tom Herbst
Tel: +44 (0)7768 145571
Email: tom@ambergroup.net