Strengthening its alliance with AMD, IGEL now features AMD's second-generation Embedded G-Series SoC in its UD3 series
Reading, UK. June 13, 2018 – IGEL, a world leader in endpoint management software for the secure enterprise, today announced that it is building on its relationship with AMD by upgrading the IGEL UD3 software-defined thin clients to the second-generation AMD Embedded G-Series system-on-a-chip (SoC), the GX-424.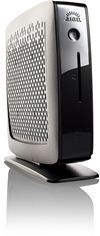 IGEL UD3 thin client
"AMD continues to be one of our top strategic partners," said Simon Clephan, Vice President of Business Development and Strategic Alliances, IGEL. "We are proud to be teaming with them to disrupt the end-user computing experience by providing our customers with a powerful, rich multimedia computing experience and security that goes well beyond what they would typically expect from their endpoints."
Stephen Turnbull, Director of Marketing, Datacenter and Embedded Solutions Group, AMD, said: "The partnership with IGEL is a win-win for our mutual customers. Together, the AMD Embedded processors and the IGEL software-defined thin client make for an unstoppable combination as the performance, power and efficiency of the IGEL UD3 is right in the sweet spot for our customers. Not only does the IGEL UD3 support an exceptional user experience, but it is secure and easy to manage."
Expanded AMD Endpoint Portfolio includes IGEL UD3 and UD7 Thin Clients
In April 2018, IGEL announced the integration of the AMD Embedded R-Series SoC with AMD Radeon™ R5 Graphics into its newly introduced IGEL UD7 thin client. Setting a new standard for high-performance, multi-monitor end-user computing, the IGEL UD7 features two 4K DisplayPort connectors at 60Hz and one 2K DisplayPort connector at 60Hz, with expansion capabilities to include one additional 2K DisplayPort connector at 60Hz, and Secure Boot validation. Similar to the IGEL UD7, the IGEL UD3 provides simple, smart and secure access to modern workspaces, and is designed for end-user computing (EUC) environments where there is demand for high-quality video streaming and multi-monitor support.
"The IGEL UD3 is the 'workhorse' in our portfolio," said Matthias Haas, CTO, IGEL. "It remains our most popular model due to its high-performance, efficiency, robust feature-set and affordability. With the integration of the second-generation AMD Embedded G-Series processor along with multi-monitor support, we can now offer our customers the ability to further scale their IGEL deployments through an extended range of use-cases with the IGEL UD3 that go beyond typical office environments to include CAD design suites, hospital diagnostics centers and broadcasting facilities."
Multimedia Functionality Extends to Skype for Business
The IGEL UD3 with its integrated AMD Embedded G-Series SoC delivers a powerful, high-definition multimedia experience with one 4K DisplayPort connectors at 60Hz and one DVI-I connector for maximum flexibility.
Additionally, the IGEL UD3 features up to 4GB DDR4 RAM, offers support for Citrix HDX RealTime Media Engine (RTME) 2.4, and has passed all Citrix Ready HDX certification levels including HDX Technology, HDX Premium and HDX 3D Pro. The UD3 is also certified by Citrix for Skype for Business video conferencing capabilities.
"With demand for unified communications capabilities on the rise, IGEL is committed to meeting the needs of our customers by supporting a wide-range of communications and collaboration protocols including Skype for Business," continued Haas.
Smart, Simple and Secure Management with IGEL UMS
Through the IGEL OS, IT organisations can future-proof their investments in the IGEL UD3 through regular software upgrades that include hardware acceleration, while at the same time enhancing the security of their endpoints by preventing malware and other cyberthreats.
The IGEL UD3 is managed through the IGEL Universal Management Suite™ (UMS), which provides IT organisations with automated backend control of their IGEL endpoints, freeing them up to focus on more strategic initiatives. Purpose-built to simplify complex enterprise environments, the IGEL UMS supports a diverse array of devices and operating systems and enables IT organisations to add and remove endpoint devices, and perform software upgrades as needed or required.
The IGEL UD3 also comes pre-configured to support industry-leading virtualisation protocols including Citrix HDX, Microsoft RDP/Remote FX or VMware Horizon Blast Extreme. Organisations can add or re-configure these supported virtualisation protocols leveraging the IGEL UMS to quickly transition between protocols, and make changes to their entire network of thin clients, or a specific endpoint.
Availability and Support
IGEL UD3 with the AMD Embedded G-Series SoC is available now and can be purchased through IGEL's network of Platinum- and Gold-level Partners, Authorised IGEL Partners (AIPs) and resellers. Each IGEL UD3 comes standard with a free extended five-year hardware warranty and includes a software licence that provides access to regular and frequent firmware updates. This enables IT organisations to preserve their hardware investment while taking advantage of new features and functionality as they become available.
To experience the capabilities of the IGEL OS, Universal Desktop Converter (UDC) and IGEL Universal Management Suite (UMS), download here: https://www.igel.com/download?utm_source=wire&utm_medium=press-release&utm_campaign=company-news&utm_term=ums-universal-desktop-converter&utm_content=AMD-UD3-NR, or request free evaluation hardware.
IGEL on Social Media
Twitter: www.twitter.com/IGEL_Technology
Facebook: www.facebook.com/igel.technology
Google+: https://plus.google.com/u/0/101270758605662221044
LinkedIn: www.linkedin.com/company/igel-technology
YouTube: www.youtube.com/user/IGELTechnologyTV
IGEL Community: www.igel.com/community
About IGEL
IGEL delivers powerful unified endpoint management software that is revolutionary in its simplicity and purpose-built for the enterprise. The company's world-leading software products include the IGEL OS™, Universal Desktop Converter™ (UDC), IGEL Cloud Gateway™ (ICG), IGEL UD Pocket™ (UDP) and Universal Management Suite™ (UMS). These solutions enable a more secure, manageable and cost-effective endpoint management platform across nearly any x86 device. Additionally, IGEL's German engineered and manufactured thin, zero and all-in-one client solutions deliver the industry's best warranty (5 years), support (3 years after end of life) and management functionality. IGEL enables enterprises to precisely control all devices running IGEL OS as well as Windows OS from a single dashboard interface. IGEL has offices worldwide and is represented by partners in over 50 countries. For more information on IGEL, visit www.igel.com.
AMD, the AMD Arrow logo, Radeon, and combinations thereof, are trademarks of Advanced Micro Devices, Inc. Other names are for informational purposes only and may be trademarks of their respective owners.
IGEL Media Contact:
Tom Herbst
Tel: +44 (0)7768 145571
Email: tom@ambergroup.net