Bringing the Latest and Greatest on Technology Industry Issues from Artificial Intelligence to Cyber Security to the North West, for a Third Successful Year
London, 25 January 2017 – IP EXPO Manchester, part of Europe's number one enterprise IT event series, today launches its 2017 showcase, which promises to be the most insightful and topical yet.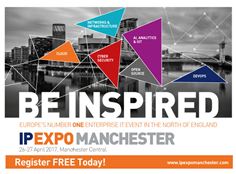 IP EXPO Manchester Be Inspired
2017 is a year of opportunity for Manchester, with Prime Minister Theresa May allocating £130.1 million in investment for the Greater Manchester region. Manchester City Council will also invest an additional £4 million in two new tech hubs to support the Northern cities booming technology, science and digital industries.
With additional focus on development in AI, AR, VR and automation technologies, Manchester is well placed to continue to grow its international technology reputation and be at the forefront of overcoming industry issues and challenges. Be it Brexit, changes in European legislation such as General Data Protection Regulation (GDPR), or the advancement of artificial intelligence, there is a vast landscape of new issues for IT professionals to navigate.
For its 2017 event, IP EXPO Manchester will address all these changes in the region by providing local organisations with access to an unprecedented group of influential speakers and brands across central themes of Cloud, Cyber Security, Networks and Infrastructure, DevOps, Open Source and a brand new topic combining AI, Analytics and IoT. Now in its third successful year, the two-day event will take place on 26-27 April 2017 at the Manchester Central, Manchester.
"2017 is shaping up to be one of the most transformative years ever with so many disruptive and exciting new technologies now mature and available. Add to this the growing need for businesses to digitally transform to stay competitive and the continued growth of the cyber threat landscape there is a crucial need for information, expertise and advice. Our mission is to provide our attendees with rare access to the industry leaders and the world class experts that are creating and shaping these technologies." comments Bradley Maule-ffinch, EMEA Portfolio Director for the IP EXPO Event Series.
He continues, "IP EXPO Manchester is our fastest growing event and easily the largest enterprise IT event in the North. Artificial Intelligence, going serverless, DevOps and Cloud technologies are just some of the areas we'll be covering as well as our cyber security content around GDPR, ransomware, social engineering, and threat protection. IP EXPO Manchester aims to bring together the right people and brands under one roof to help IT professionals discuss, debate and discover more about the challenges and opportunities these issues bring to the region and beyond."

2017 Programme highlights include:
Panel debate on the 'Future of Artificial Intelligence' featuring Amy Nicholson, Tech Evangelist Microsoft UK
Live hack demonstration from Ken Munro, Founder of Pen Test Partners
Industry leading speakers such as:

David Lewis – Global Security Advocate at Akamai Technologies
James Akrigg – Head of Technology for Partners at Microsoft
Paul J Taylor – Detective Constable for Cyber Crime at Greater Manchester Police
Jenny Radcliffe – 'The People Hacker'
For further information and to register free for IP EXPO Manchester 2017, please visit: www.ipexpomanchester.com. Get involved on Twitter using #IPEXPOManchester
About IP EXPO Manchester
IP EXPO Manchester is part of Europe's number one enterprise IT event series, IP EXPO. The event series also includes IP EXPO Europe in London and IP EXPO Nordic in Sweden. Launched by organisers Imago Techmedia in 2015, the event now encompasses six events under one roof including Cloud, Cyber Security, Networks and Infrastructure, DevOps, Open Source and a brand new topic combining AI, Analytics and IoT. Designed for those looking to find out how the latest IT innovations can drive and support their business and transition to a digital future
The event showcases brand new exclusive content and senior level insights from across the industry, as well as unveiling the latest developments in IT. It covers everything you need to run a successful enterprise or organisation.
Media contacts:
Gemma Smith / Vicky Muxlow
020 3176 4700
ipexpomanchester@kaizo.co.uk
Speaker or exhibitor enquiries:
Sophie Barry / Keiran Prior
0203 841 8500