Following a competitive tender process, Natural Power has been appointed by Ventient Energy to deliver an independent turbine servicing contract at Westfield Wind Farm in Fife, Scotland.
The four five-year old Nordex N90 wind turbines on site will be covered by the servicing contract that includes a carefully planned predictive maintenance schedule as well as reactive repairs and responding to any major component failures. The asset will be remotely monitored via Natural Power's ControlCentre, the largest, independently operated 24/7 control room in the UK.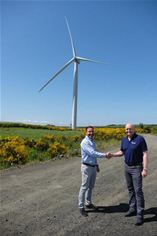 James Hamilton and Tony Crosbie
This takes Natural Power's servicing contract portfolio, which also includes Paul's Hill and Rothes wind farms near Elgin, and Crystal Rig I in the Scottish Borders, to 175 turbines. This represents the start of a new operational relationship with one of the biggest operators of onshore wind farms in the UK.
Scott Mackenzie, CEO at Ventient Energy, said: "During our discussions with Natural Power, we have been impressed with their capabilities and experience and it is great to see a local supplier win this contract. We are looking forward to working with Natural Power at Westfield to help drive the operational performance of the wind farm and add value to the Ventient Energy portfolio."
Stuart Egan, Head of Operations at Natural Power, said: "We have been growing our independent servicing team in response to an increasing demand from operators to move from existing contracts with the turbine manufacturers (OEMs). In doing so, we are able to provide a more transparent, responsive and bespoke service at a lower cost. This contract win marks an exciting milestone for Natural Power and we look forward to demonstrating the impact we can make through our independent approach to servicing."
Since taking over its first servicing contract on Crystal Rig I in 2015, Natural Power's independent servicing team has grown from six to 37 staff.

Stuart continued: "In our recent analysis of a portfolio of sites with a mix of Siemens and Nordex turbines, the team was able to demonstrate a 70% decrease in the average energy loss by turbine, a 58% decrease in the downtime per event and a 68% decrease in energy loss per event. Our unique approach to servicing, where high-performing turbines are identified and their maintenance prioritised, the provision of local service hubs offering quick response times and a procurement team dedicated to sourcing the best quality parts at the best price, has demonstrated a significant difference to even the highest performing sites."
Westfield Wind Farm is located on a brownfield site at the former Westfield open-cast coal mine which closed in 1998. The site was previously one of the largest open-cast mines in the UK and is now earmarked for an ambitious redevelopment. Westfield lies approximately 3.62 km south west of Glenrothes and 13.40 km north east of Dunfermline.
The wind farm was constructed during 2012-2013, and is administered from a control building located within the site boundary. Westfield's four turbines are rated at 2.5MW and the site has an installed capacity of 10MW, generating enough energy to power 4,690 homes.
Natural Power's team of servicing and repair technicians form an integral part of the operations and asset management team, and are at the front line of defence on behalf of many clients. Through careful liaison with the in-house team of analysts and engineers, they can schedule maintenance work to ensure minimal downtime and reduction of long term renewable energy operational costs. To find out more, please visit https://www.naturalpower.com/project-phase/operations/
About Ventient Energy
Headquartered in Edinburgh, Scotland, Ventient Energy continues to grow as one of the UK's leading renewable energy companies with ambition to operate renewable energy projects across Europe.
With ~690MW of installed capacity on 34 wind farms stretching the length of Great Britain from Cornwall to Caithness, Ventient Energy is uniquely placed to capture the abundant wind energy that crosses the UK, one of Europe's windiest countries.
www.ventientenergy.com
https://twitter.com/ventientenergy
https://www.linkedin.com/company/ventient-energy/
About Natural Power
Natural Power is a leading independent renewable energy and infrastructure consultancy that employs 350 staff globally. The company offers proactive and integrated consultancy, management and due diligence services, backed by an innovative product range, across the onshore wind, offshore wind, wave, tidal, renewable heat, solar pv and hydro sectors, whilst maintaining a strong outlook on other new and emerging renewable energy sectors.
www.naturalpower.com
https://twitter.com/Natural_Power
https://www.linkedin.com/company/natural-power
ENDS
Contact details:
Jane Maher, PR and Media
Natural Power
T: 07887 995 589
E: janem@naturalpower.com