White paper outlines how app companies can increase reach, audience and revenues by harnessing new mobile app strategy platform and distribution
LONDON – May 3, 2017 – Millions of mobile apps, billions of mobile devices and trillions of sensors that make up the Internet of Things are combining to boost the growth of the global App Economy, but app developers, brands and companies that limit distribution and promotion of their apps to the Apple iTunes and Google Play app stores could be missing out on massive opportunities to grow audience and revenues through alternative app stores. This is the core message of "More Is Better: Market and Monetize Your Apps on A Greater Scale for Greater Reach and Profit," a new white paper available free for download at URL: http://info.appscatter.com/l/211552/2017-04-21/9hbd7q.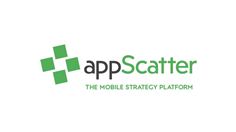 appScatter logo
The resource, sponsored by appScatter, a mobile app strategy platform provider, offers perspective on the advance of alternative Android apps stores and outlines the options and business advantages they offer. These range from the Amazon Appstore, which reaches a whopping 200+ countries and offers 600,000+ apps, to China's Myapp Tencent Store, which has 6 million apps and over 800 million monthly active users.
While there are hundreds of alternative app stores and marketplaces - each with their own focus, audience and appeal - each also has its own set of requirements, making it costly and complicated for both established app companies and Long Tail app developers to tap new markets on their own. Brands and enterprises face a different challenge: they must have visibility into how many apps carrying their brand are available across app stores globally. They must also proactively protect their brand integrity against piracy and other black hat tactics.
To complicate matters, new analysis forecasts that the number of apps on offer in the Apple App Store alone will double to 5 million by the year 2020, turning up the pressure on app developers and marketers to get smarter about how they compete and stand out from the crowd, observes Philip Marcella, appScatter founder and CEO. "The growing number of apps means developers and publishers require optimized marketing strategies driven by sophisticated analytics."
To this end appScatter monitors more than 350 app stores and 6 million active publishers, distilling data into business intelligence and competitive intelligence for app developers and marketers eager to keep tabs on rival apps, meet performance metrics and target relevant audiences. Drawing on this data and insights --in-depth information contained in the white paper-- allows appScatter to provide a unique look at the trends in today's app market and the themes driving opportunities and issues facing app marketers and developers everywhere.
Demand for apps shows no signs of slowing. Despite worries that the industry may be approaching an "app glut," consumer appetite for new apps remains consistent. According to 451 Research, there are currently 2.64 billion active mobile app users, a number expected to rise to more than 3.13 billion by end-2018.
The app store duopoly is losing its grip. Today there hundreds of alternative Android app stores (350 of which are monitored by appScatter) and that number is growing worldwide. There is "life beyond Google Play" and app developers must seek ways to focus on regional distribution and target users by demographic, geography and interests.
Discovery of apps is driven by search. App store search may be fatally flawed, but it reigns as the primary way consumers currently find and interact with mobile apps. Overall, app discoverability - and the success of app marketing efforts - is becoming more dependent upon how broadly app companies cast their net through wider app store distribution and a sharper focus on App Store Optimization (ASO).
Complexity reigns at every stage of the app life-cycle. Publishing apps in alternative app stores is a huge opportunity, but it can also be costly and time-consuming. App companies require solid business intelligence to identify relevant app stores and markets; assistance to register apps and meet compliance guidelines across multiple app stores; and visibility into sales, revenues and downloads.
"There are striking similarities between the App Economy and real-world physical retail," observes Peggy Anne Salz, chief analyst of MobileGroove, a research and consulting firm focused on mobile apps, contextual marketing and engagement, and business transformation. "Rather than battle for shelf-space on the digital shelves of the two major app stores, app developers and app marketers should branch out and tap new, uncontested markets they can reach by publishing their apps across alternative app stores." It's a mammoth task, Salz adds. "However, solutions and platforms that address the task of distributing, managing and tracking apps and intellectual property can provide app companies and marketers the edge."
About appScatter
appScatter, a UK-headquartered mobile strategy company, has developed an innovative, new app distribution, tracking, performance and analytics platform designed to deliver broad distribution of applications and granular visibility of their performance in the market. A comprehensive app distribution tool with the ability to manage and automatically submit apps to over 50 of the largest app stores, the solution provides a powerful way for developers to publish applications to hundreds of stores while providing a comprehensive suite of reporting and analytical tools. appScatter is currently providing mobile strategy and application distribution solutions to some of the world's largest and established brands, large enterprises, development houses and independent developers to deliver a mobile strategy solution.
Clients include blue chip corporations, leading development houses, as well as a growing number of indie developers and small businesses.
For more information visit https://appscatter.com/splash and follow the company on Twitter @appScatter.
MEDIA CONTACT:
Alison Kenney, Guyer Group
alison.kenney@guyergroup.com
781.990.3729