Moscow, Russia and Budapest, Hungary, 3 July 2019 – InfiNet Wireless, the global leader in fixed broadband wireless connectivity, has outlined its vision for the future of next generation wireless technologies at the tenth instalment of its annual Partners Conference.
Taking place in Budapest, Hungary, the conference was attended by close to 100 partners and end customers from 26 different countries. The two-day conference focused mainly on InfiNet's future strategies, with the company's management team stressing the importance of aligning its global focus with the growing demand for reliable and higher capacity wireless infrastructures.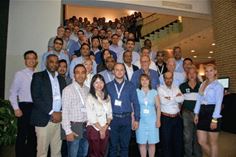 Kamal Mokrani, Global Vice President at InfiNet Wireless welcomes attendees to the milestone tenth Partners Conference in Budapest
A launch of a new brand identity was also exclusively announced, defining the company's vision going forward and aimed at visually enhancing its culture of innovation and synergy with its global partners base.
"Our annual conference is the highlight of our financial year. It is not only an important forum for us to meet with our valued partners, but it is also a golden opportunity for us to listen to current market trends and dynamics, ultimately enabling us to identify new ways to deliver ground breaking solutions," said Dmitry Okorokov, CEO at InfiNet Wireless.
Throughout the conference, senior executives from InfiNet Wireless presented its strategic intentions and shared the company's new and extensive range of wireless solutions.
Global Vice President at InfiNet Wireless, Kamal Mokrani, highlighted the value of networking among partners, creating a truly global and cooperative ecosystem. He also shared multiple success stories from various industry verticals such as homeland security, remote surveillance of ports and mining assets, and delivering Internet services to rural areas. Various partners attending the annual events also presented their recent wins, including one from the host nation Hungary, as well as from other parts of Europe, the Middle East and the Americas.
"This week in Budapest we have felt a real excitement for what's happening in terms of delivering higher levels of performance out of our solutions, and continuously pushing the boundaries of physics to achieve even more, in less spectrum and at a lower cost to our end users. The constant feedback we get from our partners who are deploying our latest products, such as the new Quanta 5, in all environmental conditions is greatly encouraging and allows us to fine tune our value to them," added Okorokov.
About InfiNet Wireless:
InfiNet Wireless is in a unique position, being one of the largest privately owned Broadband Wireless Access (BWA) development and manufacturing companies in the world. Since its foundation, InfiNet has maintained organic growth through innovation and the ability to deliver complete customer satisfaction throughout. Listening to its customers for more than 24 years, coupled with its innovative approach in research and development, have resulted in a range of advanced fixed wireless connectivity solutions that are a perfect fit for many requirements, making InfiNet Wireless the natural choice for global communication corporations and governments, all of whom require uncompromised connectivity. With over 500,000 deployments from the plains of Siberia to the deserts of the Sahara, InfiNet Wireless is active in market segments that deliver Broadband Wireless Access to service providers of all types, government entities, transportation sector (including mobile and nomadic functionality) and Oil & Gas. For more information, please visit our website at www.infinetwireless.com or connect with InfiNet Wireless on social media: @InfinetW
Media Contact Information:
Ekaterina Safronova
InfiNet Wireless
+356 2034-15-14
e.safronova@infinetwireless.com
Natasha Pearson
Proactive PR
+44 (0)1636 704888
natasha.pearson@proactive-pr.com