Patented image enhancement technology product introduced through Kickstarter campaign
Cambridge, UK, April 15 2015, Spectral Edge (www.spectraledge.co.uk) today announced Eye2TV, its new smart HDMI adapter for color-deficient TV viewers and gaming enthusiasts. The new product enhances video content for the estimated 4% of the world's population that suffers from color-deficiency (also called color-blindness), making it easy to distinguish between red and green features and enabling on-screen objects to be easily distinguished.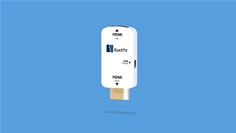 Eye2TV
The Eye2TV adapter is initially available via the Kickstarter website, where it can be purchased for US$74 (£50) plus shipping. Kickstarter enables projects to raise money by attracting pre-orders and donations from supporters and Spectral Edge is aiming to raise US$150,000 (£100,000) by June 13 2015 in order to bring the Eye2TV adapter to market. As well as the chance to buy single or multiple Eye2TV adapters, the project offers the opportunity to receive a high quality image pre-enhanced for color-deficient people for a pledge of US$14 (£10). The Kickstarter page is at https://www.kickstarter.com/projects/22739545/eye2tv-video-enhancement-for-colour-blind-people.
The Eye2TV adaptor works with any HDMI video source, such as a cable or satellite set top box, DVD player, AppleTV/Roku box or games console. It connects between the video source and the display, which can be a HD TV or monitor with an HDMI input.
All video is then enhanced on a frame by frame basis through Spectral Edge's patented Eyeteq image enhancement technology, offering a dramatically improved viewing experience. Based on research from the University of East Anglia (UEA) in the UK, Eyeteq uses mathematical perception models to modify image colors. Uniquely, Eye2TV does this with minimal impact on the picture that is seen by those who do not have color-deficiency, or "color normals", enabling both to watch the same screen together.
Through its small remote control unit the picture quality can be adjusted to suit the unique color-vision of the individual viewer. An iOS and Android app will also be developed to control Eye2TV.
The viewing experience of those with color-deficiency is particularly affected when watching particular content types. It can be difficult to tell sports teams apart, particularly if one is playing in red and the other in green, while programs about wildlife, cookery and art are severely impacted. Playing video games featuring predominantly red/green characters and those with subtle color differences between good guys and monsters is also difficult for those with color-deficiency.
"The inability to enjoy watching TV or to play video games alongside friends and family is a major frustration to those suffering from color-deficiency, significantly impacting their quality of life," said Christopher Cytera, Managing Director, Spectral Edge. "Our image enhancement technology is proven to solve this major accessibility issue, and the Eye2TV adapter is poised to transform how color-deficient people, and their families, watch TV and video content. By launching the project on Kickstarter we can accelerate bringing our technology to the consumer electronics market, giving those with color-deficiency the chance to become early adopters and improve their viewing experience."
Provided that adequate funds are raised by the deadline of June 13, Eye2TV will be developed in 2015, for production and shipment worldwide by March 2016. To find out more, advance purchase an adapter or to make a pledge visit https://www.kickstarter.com/projects/22739545/eye2tv-video-enhancement-for-colour-blind-people. Spectral Edge welcomes pledges from companies in the TV business interested in distributing/branding Eye2TV.
-ends-
About Spectral Edge
Formed in February 2011, Spectral Edge is a spin-out company of the Colour and Vision Group of the School of Computing Sciences at the University of East Anglia in Norwich (United Kingdom). It operates from offices in Cambridge and Norwich.
Spectral Edge technology enhances images and video by using information outside the normal visible spectrum or applying transformations to that within it. Applications range from computational photography, mapping and consumer applications such as enhancing TV pictures.
Website: http://www.spectraledge.co.uk/
Pictures & Media Pack: http://www.spectraledge.co.uk/about/media-pack
LinkedIn: https://www.linkedin.com/company/spectral-edge-ltd/
Facebook: https://www.facebook.com/SpectralEdge
Twitter: @SpectralEdgeLtd
Email: pr@spectraledge.co.uk
For more information:
Chris Measures (PR for Spectral Edge)
+44 7976 535147
chris@measuresconsulting.com