Leading Oracle Platinum Reseller Inoapps (www.inoapps.com) has launched a series of informative podcasts aimed at customers and other stakeholders. The fortnightly podcasts aim to share useful ideas and concepts from Inoapps' experience around the globe, whilst also exploiting the company's closeness with Oracle itself. The podcasts will cover a variety of topic areas including:
Interviews with Oracle Management
Interviews with Inoapps' customers from around the globe
Customer Case Studies
Best practice ideas and policies
Market trends and topical themes
Views from the US and ASEAN territories
Technical Product Assistance and Guidance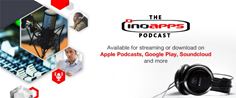 Inoapps' Podcast Series
Inoapps' Head of UK and EMEA Region, Andrew Norris, said in a statement: "As a global player with operations in the US, the ASEAN territories and EMEA, Inoapps has a wealth of expertise and advice that it can share with other Oracle users. We can also draw upon the exceptionally strong relationship with Oracle that we have built up as a frequent recipient of Oracle partner awards across the years. From our customer research, we know that podcasts are an ideal medium for dissemination of key content and customer information – hence our significant and ongoing investment in this format."
"The first podcast is an interview with Oracle's Simon Hill, who highlights the important role partners can play in helping customers to optimise their use of Oracle systems once deployed. Our next Podcast features Caroline Apsey; Technology Evangelist for Oracle who will be discussing Women in Technology."
Those interested in listening to the first episode can find it here:
Apple Podcasts: https://itunes.apple.com/gb/podcast/the-inoapps-podcast/id1405587570?mt=2
Soundcloud: https://soundcloud.com/theinoappspodcast/episode-1-the-importance-of-partners-with-simon-hill
ends
About Inoapps
Inoapps specialises in delivering Oracle applications, technology, hardware and Cloud, supporting our customers through the provision of consultancy, implementation, enterprise change management and hosting & managed services. Our global footprint extends across North America, Europe, the Middle East, Australia and Asia.
For more than a decade we have focussed on delivering cutting edge Oracle solutions which help our clients to drive operational excellence and maximise the benefits of their technology investments. Our depth of expertise and commitment to our customers is demonstrated by consistent recognition from Oracle and the fact that our first customer is still a customer.
Inoapps is Oracle's Cloud First Partner of the Year 2018/19 and an accredited member of the Oracle Managed Service Provider Programme. At Oracle OpenWorld 2017 we were named Most Innovative Managed Service Provider Partner.
For further information, please contact:
Jordan Wilson
Global VP- Marketing
Inoapps
T: +44 (0)870 11 22 000
jordan.wilson@inoapps.com
www.inoapps.com
or
Leigh Richards
The Right Image
T: 0844 561 7586
leigh.richards@therightimage.co.uk
www.therightimage.co.uk