By sponsoring Linlithgow Academy in the 2018 'F1 in Schools' STEM competition, Inoapps (www.inoapps.com) has helped steer an all-girl student team through to the contest's global final in Singapore. As a global company itself, Oracle Platinum Partner Inoapps has supplied funding, design services and business advice to the Academy's team. With its own offices in Singapore, Inoapps is now ideally placed to continue its support at the prestigious World Finals in September.
The Linlithgow Academy team, who have named themselves "Team Accelerace powered by Inoapps" (www.teamaccelerace.com, @teamaccelerace), consists of five S3 students from the Academy. They qualified from the Scottish Regional Finals in February, before winning the Development Class Final at the home of British motorsport, Silverstone, in March 2018, earning themselves a place on the global stage in Singapore.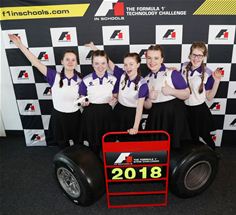 Team Accelerace
The F1 in Schools programme is a not-for-profit educational organisation, which relies solely on industry support. The competition is intended to encourage the next generation of students to see science and engineering as an attractive career path for all.
It's the first time that Linlithgow Academy has taken part in the 'F1 in Schools' challenge, which reaches millions of students around the globe. Using the latest CAD and 3D printing technologies, the team is following the same processes that a real Formula 1 team would use to develop a racing car, from creating a business plan through to designing, making and racing their car. The competition culminates in a 20m track race, with the winning team chosen based on a combination of their track time and the quality of their submitted portfolio.
"It's a pleasure to guide the team through this project with the support of Inoapps," says David Marshall, Design and Technology Teacher at Linlithgow Academy. "We entered this project as it enabled the team to develop a host of beneficial skills. These included teamwork, building commercial relationships, fundraising and business planning, as well as communication and presentation skills … all of which are crucial to their future career paths.
"We are all immensely proud that their success now means that they will gain so much more through their participation in the global final in Singapore. It is a unique opportunity and I am extremely grateful to Inoapps for their tireless support and expertise."
On winning the Silverstone final, Isla Petrie, Design Engineer of Team Accelerace, said "It's been so much work, but it's totally worth it now".
Andrew Norris, Inoapps' European Region Leader, said, "We're delighted to sponsor Team Accelerace in this venture, and are even more pleased that in 2018, the Year of the Woman, the all-girl Linlithgow Academy team has won through to the final in Singapore. It would be wonderful to think that this programme might well inspire the girls to embark on a career in engineering, technology or international business.
"Our Linlithgow office has a long-standing programme of graduate and apprentice recruitment, and we are keen to play our part in building the next generation of talent. We believe that STEM initiatives are vital to the continued supply of future talent, and we wish Team Accelerace the best of luck in the World Finals."
However, now that the team has won its place at the finals, the hardest task has only just begun – fundraising for the money necessary to pay for the trip. The girls have planned a variety of events and activities to raise money, but are also searching for corporate sponsors. They have created a Crowd Funding page to support their efforts: (www.justgiving.com/crowdfunding/teamaccelerace), and would welcome the chance to talk to any companies that would be interested in backing the next generation of Engineering talent.
Ends
About Inoapps
Inoapps is a leading, global IT consulting firm focused on helping companies modernise business processes with a modern Cloud.
We are an Oracle Platinum Partner and Oracle's Specialized Partner of the Year for Software as a Service Cloud Transformation - Global. Founded in 2006, we help engineering and construction companies of all sizes to benefit from Oracle applications and technology.
Focused exclusively on Oracle applications and technology, Inoapps is an authorised reseller of Oracle licenses and provides consulting, implementation, hosting and managed services for Oracle Cloud, Oracle E-Business Suite and other Oracle technology products.
For further information, please contact:
Jordan Wilson
Global VP- Marketing
Inoapps
T: +44 (0)870 11 22 000
jordan.wilson@inoapps.com
www.inoapps.com
or
Leigh Richards
The Right Image
T: 0844 561 7586
leigh.richards@therightimage.co.uk
www.therightimage.co.uk