Partnership enables Insignia to offer their existing and prospective healthcare customers an end-to-end, enterprise management solution to consolidate patient and administrative data
ASHTEAD, UK – 21 May 2018 – BridgeHead Software, the leading healthcare data management provider, today announced a partnership with pioneering UK-based Enterprise Imaging supplier, Insignia Medical Systems, to provide its data migration and application retirement solution (incorporating its Independent Clinical Archive (ICA), HealthStore™) to existing and prospective Insignia customers.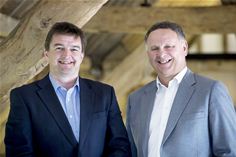 Richard Dormer, Managing Director of Insignia and Tony Tomkys, Vice President UK and Ireland at BridgeHead Software
The strategic partnership will see BridgeHead and Insignia working together, enabling healthcare providers to realise the benefits of aggregating and centralising patient and administrative data. Insignia will support medical imagery through its InSight PACS application and BridgeHead's HealthStore™ will provide a central repository for all other healthcare data. This allows historic, referenceable patient and administrative information to be made directly available to the primary EPR, 'in context', reducing clinical workflow and offering a more complete patient record to those that need it, when they need it, at the point of care.
With over forty years' combined healthcare experience, both BridgeHead and Insignia have an acute understanding of the pressures facing UK healthcare providers, particularly the need to work more efficiently and do more with less; and all against a backdrop of improving patient care. A significant element of the offering will be BridgeHead's application migration and retirement solution, enabled through HealthStore. By extracting data out of vulnerable legacy systems, then consolidating it in a standards-based repository, providers can access a rich patient history in order to power care decisions and improve outcomes. Furthermore, it enables those old applications to be decommissioned, reducing the associated costs and overheads as well as mitigating security risks often linked to legacy systems, such as ransomware and malware.
Richard Dormer, Managing Director of Insignia, said, "For the NHS and private healthcare providers, legacy systems present a considerable challenge. Not only are they vulnerable to cyber security threats, they also incur significant costs in operating and maintaining the attendant applications. With BridgeHead's HealthStore, data from legacy applications can be extracted, ingested and indexed within a central repository, allowing healthcare providers to retire obsolete systems. This reduces the risk of data failures, ensures continuity of care for better patient outcomes and allows more funds to be directed to frontline services."
Dormer continues, "Our partnership with BridgeHead means our customers can quickly and easily add these extra services to our current solutions, without the need to go through costly and timely procurement. This allows healthcare organisations to meet the growing challenges in healthcare in the most efficient way."
Tony Tomkys, Vice President UK and Ireland at BridgeHead Software, comments "Increasingly today's healthcare organisations are looking to do more with fewer resources. With mounting pressure on medical staff and an emphasis on joining up health and social care to provide a 360-degree view of patient data, it's become more important than ever to bring together data from application silos and legacy systems. Our partnership with Insignia will allow improved access to information, enabling the delivery of a higher quality healthcare ecosystem that improves the lives of patients."
[Ends]
About Insignia
Insignia Medical Systems is the pioneering UK based PACS provider, offering technology-leading solutions for your entire organisation. With over 15 years pedigree in medical imaging, we have unrivalled experience in creating software that will take medical imaging storage to the next generation. As a British company specialising only in medical applications, we uniquely offer scalable solutions developed and delivered locally. All of our software solutions are owned and developed by us and as a company that's dedicated to the UK market we are quick to respond to the changing needs of the NHS. www.insigniamedical.co.uk
About BridgeHead Software
With 20 years' experience in data and storage management, BridgeHead Software is trusted by over 1,200 hospitals worldwide. Today, BridgeHead Software helps healthcare facilities overcome challenges stemming from rising data volumes and increasing storage costs while delivering peace of mind around how to store, protect and share clinical and administrative information.
BridgeHead's Healthcare Data Management solutions are designed to work with any hospital's chosen applications and storage hardware, regardless of vendor, providing greater choice, flexibility and control over the way data is managed, now and in the future. For more information, visit http://www.bridgeheadsoftware.com/ or follow on Twitter at @BridgeHeadHDM.
BridgeHead Software EMEA Media Contact:
Bryony Cox
Mantis PR
Mobile: + 44 7860 951 092
Email: bryonycox@mantispr.co.uk