Delivers Actionable Data Across the Supply Chain
Automated Data Capture and Sharing Improves Condition Monitoring and Track-and-Trace Accountability for Food and Pharmaceutical Industries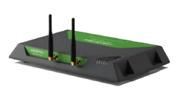 CMR-6100
ORLANDO, Fla, – RFID Journal LIVE! – April 3, 2012 – Intelleflex, a leading provider of on-demand data visibility solutions for supply chains and asset tracking, today announced the Intelleflex CMR-6100, the first fully integrated cellular-enabled, GPS-equipped multi-protocol RFID reader with support for the ISO Class 3 battery assisted passive and EPCglobal C1G2 passive standards. Intelleflex ZEST™ Data Services, a cloud-based repository for aggregating, warehousing and sharing information across the supply chain, facilitates on-demand access to actionable data for improved supply chain operations to provide a complete picture of data spanning the entire supply chain. These new offerings will allow customers to profitably improve delivered freshness for food, ensure efficacy and quality of pharmaceuticals, and improve asset utilization. The CMR-6100 and ZEST Data Services offering, which is being unveiled today at RFID Journal LIVE!, has been named a Best of Show award finalist.
Intelleflex's expanding portfolio of award-winning XC3 Technology™ products, combined with its new ZEST Data Services, provides significant business benefits, including:
Improving the quality, safety and delivered freshness of fresh, frozen and packaged foods while reducing waste and delivering track-and-trace records in the event of recalls.

Providing automated data capture to help ensure the quality and efficacy of temperature-sensitive pharmaceuticals in the supply chain through the last mile – without unpacking or tampering with the container.

Optimizing asset management and personnel monitoring for improved worksite operations in all venues where high-value assets are deployed.

Enabling information sharing among supply chain partners, and product traceability records with customers and insurance and financial services companies.

Facilitating a solution that is easy to deploy and manage anywhere without requiring middleware or edge servers.
With the availability of the CMR-6100 Reader and ZEST Data Services, Intelleflex continues to develop new solutions that can help reduce staggering losses in global supply chains. Those losses total over $35 billion in perishable foods[1]; in addition, temperature excursions (variations) are responsible for the degradation of up to 35 percent of the world's vaccines[2]. EPCglobal cites annual pharmaceutical losses of $5.4 billion globally. Losses of perishable foods and pharmaceuticals occur because supply chains have inherently lacked on-demand access to actionable data that enables real-time decision-making about a product's freshness and quality, and documents the freshness and safety of delivered products. This problem is compounded by the nature of data collection for perishables: many points along the supply chain lack network connectivity, and data collected by condition-monitoring readers and tags – while current when it is collected – is not always immediately available for review and analysis to assess and ensure relative remaining shelf life, quality, or efficacy of products at the end of the supply chain. This lack of visibility limits companies to decision-making based on collecting data only at the end points of the supply chain, often only after a product has spoiled. Working with its partners, Intelleflex provides the capability to proactively manage the supply chain with on-demand data visibility delivered through ZEST Data Services.
"Making actionable data available on-demand throughout the supply chain is critical for improving operations, maximizing the delivered freshness of food, and protecting the integrity and efficacy of pharmaceuticals," said Peter Mehring, president and CEO of Intelleflex. "With the introduction of our CMR-6100 Cellular Reader and ZEST Data Services, Intelleflex leads the way in expanding the ability to capture and share data about the condition and location of products and make that information available for improved decision-making and collaboration across the supply chain. Intelleflex is making actionable data more accessible to users, enabling them to manage fresh delivery – versus monitoring for possible spoilage – and improving the delivered freshness and quality of the product."
Actionable Data: Enabling the Intelligent Supply Chain
To achieve full efficiency, the supply chain needs secure, accurate and timely data on the inventory status and condition of its products. Intelleflex is enabling the intelligent supply chain with actionable data to optimize decision-making, reduce waste, and maximize quality and delivered freshness. The family of Intelleflex readers and tags, combined with ZEST Data Services, provides the ability to share data across the supply chain by making it easier to design and deploy solutions without relying on costly and cumbersome middleware or edge servers.
"Intelleflex's new CMR-6100 cellular reader and data services are a remarkable advancement in condition monitoring of fresh, frozen and packaged foods – as well as pharmaceuticals," said Jack Sparn, CIO of iGPS, a provider of intelligent, cost-efficient pallet-based shipping solutions and an Intelleflex partner. "In the majority of today's cold-chain operations, data from condition monitoring is either nonexistent or requires hours or days to procure – making it inactionable. The capture of iGPS's producer/manufacturer and retail pallet-level product condition and location data will enable our customers to make informed decisions using that data in near real-time via the ZEST Data Services platform, and it will help iGPS further improve information sharing and decision-making across the supply chain."
"Ease of implementation is a critical factor in the implementation of RFID solutions in global transportation processes, especially when RFID readers need to be installed on different continents," said Eelco de Jong, managing director of Antaris Solutions, a global provider of cold chain management solutions for the pharmaceutical and food industries and an Intelleflex partner. "The new ZEST Data Services from Intelleflex represent a huge step forward, making it very easy to integrate sensor data from various locations into our SmartView web application. With the CMR-6100 Reader and ZEST, Intelleflex creates a 'plug-and-play' solution that we can easily deploy at international customer locations."
Intelleflex CMR-6100 Cellular Reader
The Intelleflex CMR-6100 is the first ISO/IEC 18000-6:2010 and EPCglobal C1G2 multi-protocol RFID reader to incorporate a fully-integrated cellular modem and GPS capabilities, ensuring reliable machine-to-machine connectivity; easy, wireless access to global cellular networks; and standards-based high performance. The CMR-6100 is easy to install and maintain, requiring only connecting it to an AC or DC power source – or even a solar power source – and attaching RFID antennas. The system also includes support for a separate battery backup. Built with XC3 Technology, the CMR-6100 offers unparalleled performance in battery-assisted passive RFID, with the ability to reliably read and write at distances of 300 feet or more, or in and around RF-challenging environments including pallets, inside containers, and around metals and liquids.
With built-in self monitoring, interference detection and loopback test mode capabilities, the reader can be managed, maintained and updated remotely, making it ideal for deployments at worksites, fields or where access to local area networks is not an option. The reader reduces costs and overhead by minimizing the involvement of IT personnel and integration into IT infrastructure.
ZEST Data Services
Intelleflex ZEST Data Services is a secure, multi-tenant, cloud-based data collection platform for aggregating permission-based sharing of information. ZEST provides easy access to secure, authenticated reader and tag data – without the need to interface directly with the readers. This actionable data can be easily utilized via web-enabled, partner-built applications for tracking, managing and monitoring products, assets and personnel. ZEST Data Services makes it easier for Intelleflex partners to develop enterprise-aware applications by pointing to a single data source so that all members of the supply chain can benefit from secure access to the same data via the cloud.
The ZEST "data as a service" model enables businesses to collect, evaluate and share data within a department or company, or across trading and business partners, removing arbitrary "siloing" of data and powering a broad base of applications and data analytics. This model improves operational efficiency, reduces friction and waste in the supply chain, and improves inventory management, asset tracking and personnel monitoring. With support for Remote Device Management, ZEST Data Services makes it easy to manage, monitor and update readers and other devices.
New Visibility for Food and Pharmaceutical Safety
The CMR-6100 and ZEST Data Services combine to enable broad-based data collection across the supply chain, delivering actionable data to supply chain managers. With ZEST-enabled applications, supply chain managers have access to data that enables actual management of perishable products based on their past and current condition data, as opposed to traditional condition-monitoring products that provide data only after products have been delivered and it is too late to make proactive decisions that would improve quality and safety. Product condition on-demand can be evaluated to help providers reprioritize or redirect shipments to ensure the delivered freshness and quality of perishables products including fresh, frozen and packaged foods, and temperature-sensitive pharmaceuticals. This actionable data also provides documented traceability, helps to reduce time to invoice, and documents quality of delivery to improve supply chain management.
"The supply chain industry has tried for decades to solve the 'black hole' problem; and while great strides have been made in terms of having more visibility to goods in motion around the world, supply chain partners to date have had to rely on visual inspections and guesswork about the actual condition of those products," said Michael Liard, director, RFID, VDC Research. "When it comes to perishables, this isn't good enough; in the case of temperature-sensitive food safety or biologics, if efficacy is compromised, grave consequences can result. Intelleflex's new solution provides cold chain partners with a cost-effective means to collect on-demand evidence of the condition of goods as they travel throughout the global supply chain, enabling partners to make real-time decisions to ensure safety and freshness or efficacy of the delivered product."
Configuration, Pricing and Availability
The Intelleflex CMR-6100 Reader is available now through Intelleflex partners. ZEST Data Services is currently available in beta and will be fully released in the fall of 2012 as a component of end-to-end services from Intelleflex partners. Intelleflex partners deliver applications for monitoring and managing foods, pharmaceuticals, assets and personnel. Pricing for partners is available from Intelleflex.
[1] "Shelf Life," Forbes, Suzanne Hoppough, May 12, 2006. Note: the quoted annual figure has remained accurate through 2011.
[2]"Package Design Helps Keep the Patient First," Healthcare Packaging, March 20, 2012, http://www.healthcarepackaging.com/archives/2012/03/package_design_helps_keep_the.php
To learn more about the Intelleflex CMR-6100 Reader and ZEST Data Services, contact Intelleflex at 1-408-200-6500, email info@intelleflex.com, or visit http://www.intelleflex.com/Products.asp.
About Intelleflex
Intelleflex® provides on-demand data visibility solutions for cold chain and asset management. Its industry-leading XC3 Technology™ RFID products enable a range of solutions for fresh produce, perishable food, and pharmaceutical temperature monitoring, asset tracking, personnel monitoring, retail, healthcare and other applications. These real-time monitoring solutions can help organizations reduce shrink or loss, more closely track and manage assets, reduce cost of operations, and increase profitability. For more information, visit www.intelleflex.com.

# # #
Intelleflex is a registered trademark, and CMR-6100 and ZEST Data Services are trademarks of Intelleflex. All other trademarked names in this document are the properties of their respective owners.
Editorial Contact
Simon Corbett
Intelleflex EU
+44 (0) 808 120 2352
Simon.Corbett@JargonPR.com