High Wycombe, 8 March 2016 Having successfully partnered at a number of exhibitions including Takeaway Expo and RTB Live in 2015, Star Micronics and Intelligent Point of Sale Limited continue to strengthen their partnership by offering an extensive range of high performance tablet POS solutions that offer compatibility with iZettle's Chip & PIN technology as well as other third party providers. These solutions will be on display on the Star stand (310) at RBTE 2016, 9-10 March, Olympia, London.
Intelligent Point of Sale is the creator of the cloud based, iPad point of sale application intelligentpos®, a low cost, cutting edge EPOS system that enables businesses to start selling products quickly and easily, control and track sales and stock in real-time, from any location.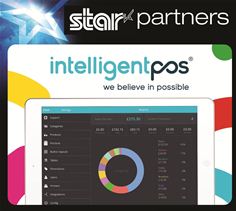 Star Micronics and Intelligent Point of Sale Limited at RBTE 2016
For printing receipts and tickets, the software provider has integrated a number of Star solutions that support iOS from the SM-T300i mobile printer to the TSP654IIBTi receipt printer, FVP10 multifunctional printer and SP700 kitchen printer. The latest product to be integrated is Star's new TSP143III wireless LAN (introduced Jan 2016). This printer will simplify many retail and hospitality installations for Intelligent Point of Sale and provide a truly, off-the-shelf product for customers.
With customers increasingly preferring to pay by card iZettle's Chip & PIN solution combined with the scalable EPOS system from Intelligent Point of Sale and flexible tablet printing solutions from Star, pop-up stores to bars are equipped to meet the needs of customers looking for an easy and reliable means of payment.
As Andrew Calzetti, Chief Marketing Officer, Intelligent Point of Sale Limited comments: "Star's excellent SDKs have allowed us to easily integrate a range of its hardware and provide our customers with feature-rich, powerful POS solutions - the new TSP143III wireless LAN is a perfect example of this."
As Annette Tarlton, Marketing Director, Star Micronics EMEA, adds: "Our partnership with Intelligent Point of Sale provides retail and hospitality with innovative yet versatile tablet POS solutions. In addition to meeting the needs of larger operators within these sectors, our compatibility with iZettle's Chip & PIN technology provides the growing number of smaller operators with an effective mobile card payment solution. We look forward to Intelligent Point of Sale joining Star at RBTE and to further strengthening our partnership in 2016."
Background information on Intelligent Point of Sale Limited
Founded in 2012, Intelligent Point of Sale Limited (based in Edinburgh) develops cutting-edge software for SMEs to utilise on iOS devices (iPad) as a low cost cloud-based point of sale (EPOS) solution. Intelligentpos® is an easy-to-use and set-up mobile and fully customizable till system that will work on an iPad, allow Credit Card payments, control stock, automate re-ordering, manage tables, build and apply promotions and discounts, recognise and reward loyalty, maximize efficiency, automate and help grow a business thanks to its powerful reporting system, which allows remote management and control, anytime, anywhere.
Background Information on Star Micronics
Founded in 1947, Star Micronics is one of the world's largest printer manufacturers and has facilities for worldwide production, marketing and support. Employing over 1900 staff and achieving turnover in excess of £250 million, Star Micronics has developed a POS printer portfolio that spans thermal and dot matrix printers and mechanisms, designed for barcode, ticketing, receipts and labelling. Star's proven technology is also being utilised to develop reader/writer systems for visual/smart and magnetic stripe cards and to install print mechanisms in multimedia kiosk environments. The Star Micronics' range is available internationally via a distribution channel comprising distributors and dealers.
-oOo-
For further information, please visit www.Star-EMEA.com or contact:
Annette Tarlton
Marketing Director
Star Micronics EMEA
Tel: +44 (0)1494 471111
Email: Atarlton@Star-EMEA.com
Claire Smith
PR Manager
Star Micronics EMEA
Tel: +44 (0)1494 471111
Email: Csmith@Star-EMEA.com
For further information on Intelligent Point of Sale Limited, please visit: www.intelligentpos.com or contact:
Andrew Calzetti
Chief Marketing Officer
Intelligent Point of Sale Limited
Tel: +44 (0)800 404 5805
Email: Andrew.Calzetti@intelligentpos.com