LONDON, 12 April 2012 - INTERXION HOLDING NV, (NYSE: INXN), a leading European provider of carrier-neutral colocation data centre services, today announced that it is installing sleeping pods in the breakout area of its London data centre to ensure that its high service levels are continually met throughout the Olympic Games.
Interxion is an integral part of the UK's digital backbone housing the business critical applications of some of the world's leading organisations, delivering online services such as social media platforms, online retail and banking, education and entertainment to millions of people across the UK. As a result it is required to have a highly resilient infrastructure so that it is able to keep running through almost every eventuality.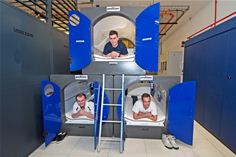 Interxion engineers test out the sleeping pods
With the Olympics on the horizon, Interxion realised the need to take its resilience that extra mile to ensure that its facilities – and more importantly its customer's applications – were not hindered during the Games. So as part of a number of initiatives, sleeping pods have been installed at its London data centre campus, allowing engineering staff to stay on site 24/7 should congestion on the travel and road networks become too severe, making it difficult for critical staff to travel to and from the site in a timely fashion.
Greg McCulloch, UK Managing Director, Interxion commented, "Due to the nature of our business we need to be ready for all eventualities and while we are excited to have the Olympics in London we also need to be sure that we can continue to offer the highest level of resilience to our customers. The installation of the sleeping pods is another great example of Interxion putting resilience and uptime at the forefront of everything it does."
Jon Gray, Director at Podtime, commented, "Everyone working in central London will feel the challenging side-effect of the Games, and the organisations they work for will face operational issues with employees being stuck in queues rather than being in the office. We see the sleeping pods as a good cheap solution for those 'staff-critical' companies which must have 24/7 cover for vital procedures. Designed in the UK and made in Battersea, South West London, our pods offer comfort, privacy and security at a reasonable price."
About Interxion
Interxion is a leading provider of carrier-neutral colocation data centre services in Europe, serving over 1,200 customers through 28 data centres in 11 European countries. Interxion's uniformly designed, energy-efficient data centres offer customers extensive security and uptime for their mission-critical applications. With connectivity provided by more than 400 carriers and ISPs and 18 European Internet exchanges across its footprint, Interxion has created content and connectivity hubs that foster growing customer communities of interest. For more information, please visit http://www.interxion.com/
About Podtime
Podtime are an innovative manufacturer of modular sleep pods, a pioneering product which can be used in a number of applications from airports, stations and motorway service areas to offices and factories to budget hotels. Based in Battersea, south west London, the company supplies their pods to various colour and feature specifications. A pod provides comfort, privacy and security for a reasonable price and can be disassembled for efficient storage when not in use. www.podtime.co.uk
Press enquiries:
Caroline Gyte, Marketing Director
Interxion Ltd
Tel: +44 (0) 207 375 7000
Email: carolineg@interxion.com
Press enquiries:
Jon Gray, Director PodTime
Tel: +44 (0) 207 228 5561
Email: jon.gray@podtime.co.uk