All the pleasure of blogging but with instant reach
Social media has one major drawback… users have to wait for followers to be seen. Niume, a new interest-based social network, has been created as a tidy solution to this problem.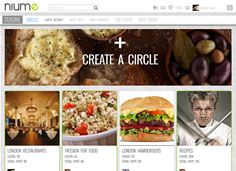 Niume circle content view
Niume addresses the need for a more instant, and arguably more interactive, social network. Users post in themed communities known as 'circles' and their content is seen immediately by everyone following that circle. Posts can also be liked, shared or 'hyped' by the followers, all of whom have a shared interest in the subject.
Co-Founder Francesco Facca comments, "Niume is about sharing your ideas with like-minded people outside your usual connections, and helping you discover more from people who like the same things as you. The circles naturally filter content by interest theme, reducing noisy feeds. For people posting content, Niume uniquely offers users instant reach. You don't have to build a following first, and that is the real joy of Niume."
The circles (over 500 to date) can be set up by anyone, on any subject, and followed by anyone else who's interested. This new approach to social media leads to high-quality interactions, informed discussion, and the sharing of great content. Niume has had great initial success in its photography, art and travel circles with over 120,000 page views, and this is set to grow across the ever-increasing number of different interest areas including sports, science, entertainment and music.
The original idea for Niume came about in 2012, when two maths graduates from Kings College London were discussing the limitations of established networks like Facebook and Twitter. Co-Founder Dani Gennaoui explains, "Our own experiences of social media frustrated us so much we decided to build our own. We wanted to create a level playing field for people posting content, rather than following the trend for having to build a following first, and also find a way to promote more meaningful discussions. For us Niume is social networking without the mindless procrastination factor. Ultimately our goal is to make Niume the most interesting place on the internet."
Niume can be accessed at Niume.com. It is free to join, easy to use and secure. Content is monitored by the circle creators and a central team. Users can login to Niume using Facebook or google+ and posts to Niume can be automatically shared to the authors' Facebook timeline.
The Niume app for Android is available now, with IOS set to follow in November.
- Ends -
Notes to editor
About Niume
Since its launch in July as an open platform, based on the feedback from its passionate users, Niume has grown rapidly to reach over 150,000 unique visitors in the last three months, and 12,076 posts to date.
Niume's top 25 circles
Pictures with a Voice (inspiring photography)
Street Art Lovers
Industrial Design
Arty Farty
Right Here, Right Now (News)
Must Read Classics (Literature)
Quotes
Fantasy Novels
Architecture
In Tune (Music)
Indie Rock
All time classics (Music)
London Hidden Gems
The Classical Voice
Filmofilia
To the extreme (Sports)
Travel
Best Destinations
Photographers
Terra Nostra (photography)
Cosmology
Cracked Up (Humour)
Crazy Goals
De Religio
Issues & opinions
For more information or to arrange an interview, please contact Dylan or Louise at the Niume press office: niume@commsiq.com