Leading IT and Network Management Software Provider Adds New Managed File Transfer Products and Editions
LONDON, UK, 4 August, 2016 – Ipswitch, the leader in easy to try, buy and use IT and network management software, today announced the launch of Ipswitch MOVEit 2016 – underscoring their position as the industry leader in secure Managed File Transfer. Ipswitch MOVEit 2016 provides new easy to buy, high value editions – Standard, Professional and Premium – for all MOVEit Transfer and MOVEit Automation products. Ipswitch is also debuting Ipswitch MOVEit Complete, an all-in-one solution for secure Managed File Transfer, delivering the best value possible at the lowest total cost of ownership. MOVEit 2016 strengthens the ability of today's IT teams to ensure secure and compliant internal and external file transfers. It also automates workflows and automatically generates reports while ensuring zero downtime and no data loss.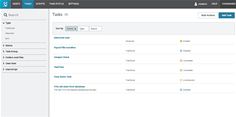 MOVEit Central
In addition, MOVEit 2016 contains the all new Ipswitch Gateway module allowing the MOVEit Transfer module to sit behind the firewall. Targeted to industries where IT teams may require multi-layered security, such as healthcare, financial services, insurance, retail, and government, Ipswitch Gateway acts as a proxy securely communicating with MOVEit Transfer installed behind the firewall of the internal network.
Ipswitch Gateway
Regulations such as PCI, HIPAA, FISMA, and GDPR dictate security and process requirements that are interpreted by Risk and Compliance teams into internal policies to govern business and IT operations. As these regulations have evolved, internal policies are also evolving to require new layers of security between the public Internet and protected data. Ipswitch Gateway responds to these increasing demands by providing an intermediary function that is deployed in the DMZ network between the Internet and the company's secured network. This enables file transfer, authentication and encrypted data storage activities performed by MOVEit Transfer to occur solely within the trusted secure network behind the firewall further protecting the enterprise from Internet threats. By deploying MOVEit Transfer with Ipswitch Gateway, IT teams can:
Ensure that no data ever resides in the DMZ portion of the network
Eliminate all exposure of secured networked resources and authorisation services to the DMZ network
Provide multi-layer data security with controlled access to user credentials stored inside the network trusted zone
James Lewis, Managing Director at Pro2col, comments: "Data protection regulations in the UK are in a state of flux. As such, it's more important than ever for companies to adopt an intelligent, bullet-proof approach to moving digital data that minimises their exposure to risk. Companies therefore need software that is able to maintain compliance with fast changing data privacy and disclosure directives, while also protecting valuable, sensitive data from unauthorised access. As such, we welcome the launch of Ipswitch MOVEit 2016 and understand how important this latest version will be for all our customers." Pro2col is a Gold Partner, the highest partner accreditation awarded by Ipswitch.
MOVEit Complete
To simplify IT teams' Managed File Transfer needs, Ipswitch is introducing MOVEit Complete – an all-in-one Managed File Transfer solution which combines MOVEit Transfer, MOVEit Automation, Ipswitch Analytics and the newly introduced Ipswitch Gateway. This new package will be offered in three tiered editions: Standard, Professional and Premium.
"Ipswitch Gateway serves as an important proxy between inbound connections from the public network and your internal trusted network. This ensures that your transfers of sensitive data are protected behind multiple layers of security," says Michael Hack, Senior Vice President, EMEA Operations, at Ipswitch. "Our customers are dealing with complicated compliance regulations every day and require a solution with the highest level of security possible for data transmission, one that's compliant with PCI, HIPAA, FISMA and other critical industry regulations."
New Editions
Ipswitch is also introducing new pricing and packaging editions to make it easier for IT teams to buy a solution that meets their exact requirements while increasing the value they receive from their investment. MOVEit Transfer (formerly MOVEit DMZ) and MOVEit Automation (formerly MOVEit Central) will now be offered in Standard, Professional and Premium editions. MOVEit Automation will also be offered in an additional edition, Basic, as an exciting entry point to the MOVEit product line.
Pricing and Availability
Ipswitch MOVEit 2016 is available immediately
Ipswitch Gateway will be available end of August
Ipswitch MOVEit Automation Basic price starts at $4,995
Trusted in industries with the highest security requirements including government, finance, and healthcare, Ipswitch's MOVEit secure Managed File Transfer solution is relied upon to reliably and predictably transfer files containing the most critical and sensitive data for thousands of customers and millions of users helping them exceed SLAs and compliance requirements. In recognition of Ipswitch's role in confidently securing sensitive data for all its customers, the company has also been named a participating organisation member with the PCI Security Standards Council, a global forum for the ongoing development, enhancement, storage, dissemination and implementation of security standards for account data protection.
To learn more about MOVEit 2016, please visit: https://www.ipswitch.com/secure-information-and-file-transfer/moveit-mft-complete/whats-new-moveit
END
About Ipswitch
Today's hard-working IT teams are relied upon to manage increasing complexity and deliver near-zero downtime. Ipswitch IT and network management software helps them succeed by enabling secure control of business transactions, applications and infrastructure. Ipswitch software is powerful, flexible and easy to try, buy and use. The company's software helps teams shine by delivering 24/7 performance and security across cloud, virtual and network environments. Ipswitch Unified Infrastructure and Applications Monitoring software provides end-to-end insight, is extremely flexible and simple to deploy. The company's Information Security and Managed File Transfer solutions enable secure, automated and compliant business transactions and file transfers for millions of users. Ipswitch powers more than 150,000 networks spanning 168 countries, and is based in Lexington, Mass., with offices throughout the U.S., Europe, Asia and Latin America. For more information, please visit http://www.ipswitch.com/, or connect with us on LinkedIn and Twitter.
Media Contact:
Robert Fretwell or Richard Wolfe
TOUCHDOWNPR
Office: +44 (0) 1252 717 040
ipswitch@touchdownpr.com