Galway Clinic to become first Irish Hospital to enable patient access to health records
ASHTEAD, UK – 17th November 2015 – Galway Clinic is undergoing an ambitious project to become the first hospital in Ireland to enable patients access to their Electronic Health Record (EHR) by November 2016. To achieve this, the clinic has installed MEDITECH's latest EHR platform, MEDITECH 6.1, and is using BridgeHead Software's RAPid™ Data Protection suite to ensure that the MEDITECH system, as well as the rest of the hospital's data, is fully protected and recoverable in the event of a system outage, data corruption, loss, or major disaster.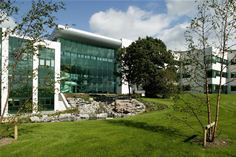 Galway Clinic
"At Galway we pride ourselves in leading the way with healthcare technology," said Raphael Jaffrezic, CIO at Galway Clinic. "It's important to us that we empower our patients to take control of their own care and to become an active player in their own treatment. We are, therefore, upgrading our EHR system and aim to put this in place by November 2016 to become the first Irish hospital to provide patients access to the EHR."
As part of the project, Galway needed to ensure they employed a fully comprehensive data and system protection environment to safeguard the MEDITECH application as well as other data from across the healthcare enterprise. Galway selected BridgeHead Software's RAPid Data Protection, with the additional MEDITECH components, to create reliable, recent copies of all patient information that can be easily brought back into live production quickly and predictably, should it be required.
"BridgeHead was the natural choice for us when it came to backing up our entire data estate. They have a high level of integration expertise when it comes to the MEDITECH platform and they also provide us with great support to give us peace of mind that data from across the entire organisation, including all patient information, is always safe and instantly accessible should an outage ever occur," concludes Mr Jaffrezic.
Healthcare data has unique characteristics that not all commodity, 'off-the-shelf' data protection applications are able to cater for. Whereas BridgeHead's RAPid Data Protection suite is specifically designed for healthcare organisations. As a result, it is perfectly placed to handle data generated by the breadth of applications typically found within a hospital, and it offers the most appropriate protection methodology as best befits the characteristics of often disparate data. Additionally, BridgeHead has unique data backup and recovery capabilities for the MEDITECH EHR. Designed in conjunction with MEDITECH, these capabilities allow the RAPid Data Protection suite to provide a backup and archiving solution that supports all MEDITECH data and all the certified SAN platforms on which that data resides.
Tony Tomkys, Vice President UK & Ireland at BridgeHead Software comments: "We are delighted to help Galway Clinic ensure it provides a resilient, fully protected healthcare data environment. In the event of any unforeseen circumstances, Galway and its patients should be reassured that all data – clinical and non-clinical – is fully backed-up and can be recovered and accessed at any point in time without impacting day-to-day operations."
### END ###
About BridgeHead Software
With 20 years' experience in data and storage management, BridgeHead Software is trusted by over 1,200 hospitals worldwide. Today, BridgeHead Software helps healthcare facilities overcome challenges stemming from rising data volumes and increasing storage costs while delivering peace of mind around how to store, protect and share clinical and administrative information.
BridgeHead's Healthcare Data Management solutions are designed to work with any hospital's chosen applications and storage hardware, regardless of vendor, providing greater choice, flexibility and control over the way data is managed, now and in the future. For more information, visit http://www.bridgeheadsoftware.com/ or follow on Twitter at @BridgeHeadHDM.
For more information
Visit http://www.bridgeheadsoftware.com/
Follow the BridgeHead Software blog
Follow us on Twitter
Follow us on LinkedIn
Like BridgeHead Software on Facebook
Follow BridgeHead Software on Google+
BridgeHead Software Media Contacts
UK and EMEA
Anna Hennessy
Mantis PR
Mobile: + 44 7974 161 137
Email: annahennessy@mantispr.co.uk