Players can hunt for creatures, build a village and enjoy puzzle combats in a 3D adventure
Aix-en-Provence, France, 24 November 2014 – Independent game developer Game Cognition released today its first cross platform title for Apple devices and Facebook: Island of Mu, a unique mix of city building, creature collection and puzzle combat, set in a luscious 3D animated island.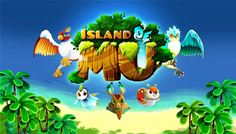 Island of Mu
Players have to restore the magic of the elements, which mysteriously disappeared leaving the world in chaos. They have to hunt, collect, nurture and train the rare creatures of the Island to make them evolve to their "Epic" and "Legend" level, revealing special combat skills. A special Source providing magic for the Island needs to be replenished bringing the village back to its original aspect and making its original inhabitants, the Mugwaïs, grow food, mine for stones and nurture the rare creatures.
Additionally, Island of Mu's unique puzzle combat mode is like a game in the game, a separate world of new quests only accessible to advanced players that will be brought there via a boat journey.
Key features:
Collect, raise, train and battle legendary creatures
Re-build a living and breathing village
6 elements and related environments to restore: Earth, Air, Fire, Water, Light and Darkness
Unique art, rich, interactive habitats, animated characters
The hunt: an original system to capture creatures
49 creatures to discover and collect, and many more to come
Puzzle battles based on a match-3 gameplay
Strategies to develop special skills needed to vanquish opponents
Special combinations to hunt hidden hybrids
Hundreds of single player quests and achievements for Facebook and mobile
A hidden world of battle quests and adventure to unlock
Play with your Facebook friends and help their village with virtual gifts
40 levels of adventures and more every month
Multiplayer battles coming soon
Jean-Eric Lucas, CEO of Game Cognition, commented: "Island of Mu is the first title created by Game Cognition and we are very excited to introduce players to our fun and enchanted universe. The team of gaming enthusiasts has worked very hard and exclusively on this game, and we hope to pass on this passion to our audience."
Island of Mu is a free single player adventure. Additional features, creatures, habitats, quests, levels, and decoration items will be released monthly. A multiplayer mode is in preparation.
The game is available on Facebook at: https://apps.facebook.com/island-of-mu, and for iOS devices on Apple App Store at:
https://itunes.apple.com/us/app/island-of-mu/id771871884
------
Note to the editor
A digital kit with more images is available at: http://www.game-cognition.com/news
Watch a trailer video of the game at http://www.game-cognition.com/game or http://vimeo.com/96699373
Island of Mu is playable for free on Facebook at: https://apps.facebook.com/island-of-mu, and for iOS devices on Apple App Store at:
https://itunes.apple.com/us/app/island-of-mu/id771871884
French press release version available on appromoter: http://islandofmu.appromoter.com/
About Game Cognition
Game Cognition is a small team of young and passionate people focused on social and mobile gaming since 2012. Our goal is to add value to the gaming experience by creating a permanent link between the players and us. We want to show our motivation and passion in creating good quality games. We are open to our player's community and value their honest feedback, which drives us to keep improving every passing day.
Media contact
For more information please send a message to Eugénie Homayony - eugenie.homayony@game-cognition.com - 0033 6 34 31 25 63