SageGlass part of Saint-Gobain's $5+ million (€4+ million) LEED Platinum training centre for sustainable building design
Paris, France – 5th March, 2013 – Dynamic Glass from SAGE is part of a new state-of-the-art Habitat Lab in Corsico (close to Milan), Italy, that showcases how the most advanced building technologies can work in concert to create comfortable, eco-friendly working and living environments.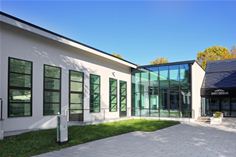 Habitat Lab exterior
Built by Saint-Gobain, the Habitat Lab is a $5+million (€4+ million) training centre designed to test the energy performance and quality-of-life benefits of new building materials in a real-world environment. The LEED® Platinum certified facility employs a variety of sustainable building materials as well as passive and active energy technologies to achieve complete energy independence, a low carbon footprint and a healthy built environment.
SageGlass® was installed in the south wall of the facility's conference room to save energy, reduce carbon emissions and improve the comfort of the people inside. SageGlass is electronically tintable dynamic glass that maximises daylight and outdoor views in buildings while controlling glare and heat gain. SageGlass can be controlled manually with wall switches, or automatically through light sensors installed in the windows.
"SageGlass is helping us achieve a new reference model for sustainable living through the Habitat Lab," said Ruggero Ricci-Mingani, technical promotions coordinator at Saint-Gobain. "It allows the Lab to optimise natural light to improve the lives of people who work, learn and live in buildings, without blocking the view to the outdoors. It is one of the most sustainable glazing solutions on the market, saving energy, money and the environment."
Since its launch in October 2012, the Habitat Lab has provided valuable training to more than 1,200 architects and building construction professionals seeking the latest knowledge in sustainable design. The "living laboratory" provides real-time performance information about energy consumption, quality of living environments and CO2 emissions for the building, as well as formaldehyde content in the air, temperature, humidity and other environmental data. In addition to SageGlass dynamic glass, the Habitat Lab includes photovoltaics, sustainable insulation, home automation systems, acoustic panels, transparent ceilings, and low VOC paints and interior materials.
About SAGE Electrochromics, Inc.
SAGE Electrochromics, with 10 years of customer experience in the USA, is the world's leading manufacturer of advanced dynamic glass that can be tinted or cleared to optimise daylight and improve the human experience in buildings. SageGlass controls the sunlight and heat that enter a building, significantly reducing energy consumption while improving people's comfort and well-being. SageGlass can reduce a building's cooling load by 20% and HVAC requirements up to 30%. It is a smarter, more elegant solution than conventional sun controls such as mechanical window shades, blinds and louvres. The company was founded in 1989 and today is a wholly owned subsidiary of Saint-Gobain of Paris, France, visit www.sageglass.com.
About SAINT-GOBAIN
Saint-Gobain, the world leader in the habitat and construction markets, designs, manufactures and distributes building materials, providing innovative solutions to the challenges of growth, energy efficiency and environmental protection. With 2011 sales of more than €42 billion, Saint-Gobain operates in 64 countries and has nearly 195,000 employees. For more information about Saint-Gobain, visit www.saint-gobain.com.
###
For more information or if you are interested in an interview please contact:
onechocolate communications
Tel: 0207 437 0227
E-Mail: sage@onechocolatecomms.co.uk
Photography is available on request.
For more information visit:
Website: www.sageglass.com
Twitter: twitter.com/SageGlassEurope
Facebook: Facebook.com/SageGlass
LinkedIn: linkedin.com/company/sage-electrochromics-inc.
YouTube: Youtube.com/SAGEElectrochromics